Guestbook
Guestbook
Please remember the CLG Aontroim Guestbook is moderated, and all posts will only be visible after approval from a member of County Executive.
PLEASE NOTE THE GUESTBOOK IS NOT INTENDED FOR NOTICES OF FIXTURES OR RESULTS AND NONE WILL BE POSTED.
---
Anto Finnegan
7th June 2017
I wanted to highlight the wonderful work done by Sean Fennell and his team of volunteers in organising the annual Féile Peile na nGaelscoileanna 2017 for Irish speaking schools in memory of St Pauls clubman, Liam Murray. The tournament was held on Friday 28th April at Rossa, St Pauls and Sarsfields with 18 teams (almost 300 kids) taking part. The buzz around the pitches was fantastic. Everything, from throw in times, to the medal ceremonies went like clockwork. With grassroots work like this being carried out, the future is definitely bright, it's Saffron and White.
christy ring final
7th June 2017
can you confirm if christy ring final is on TV or online ? also can any clubs confirm if they are showing it. cant make Dublin due to work but will finish in time to watch match if possible
---
Its not live on  but will be streamed live by TG4
Wondering
1st June 2017
Trying to organise next weeks work schedule - is it likely that the Div1 Football games involving county players may well be off like some of last nights hurling fixtures due to the first round of the Qualifiers ?
---
Have your club secretary contact CCC in relation to this query. Thanks.
Pro Help
30th May 2017
https://thesaffrongael.com/ http://gaaboard.com/board/index.php?topic=21.14070
---
A great venture by Curly. Well worth supporting
Pearse
28th May 2017
Hi. Is the Christy Ring final a 3pm or 5pm throw in? Different websites have different times!
---
R.McLarnon
20th May 2017
I was honoured to be a guest as part of the Casement social club table at the Saffron Business Forum on Friday. This was an event superbly organised by PaulMcErlean & co and certainly a very enjoyable afternoon was had by almost 500 guests.Congratulations to all concerned in your endeavours to further develop Gaelic games in County Antrim .Aontroim Abu .
---
It was a very successful event Roy!
Australian Exile
20th May 2017
Is the black/yellow jersey the minor team are wearing in the recent media photos available for purchase?
---
Probably not  - a sponsored training top - Not sure if anymore are being produced.
Antrim Gael
18th May 2017
Best of Luck to Roger Casements Referee Paul Mckeever who is refereeing the minor championship match between Monaghan & Fermanagh this weekend.
---
Congratulations Paul and Good Luck on the day.
Wondering
17th May 2017
Are the County going to make an official statement regarding Matt Fitzpatricks suspension - a clear statement would clear up a lot of the rumours and mistruths out there.
---
The county are fully behind Matthew Fitzpatrick concerning the  ridiculous decision made by CHC. There will always be rumours and mistruths!
RORY
11th May 2017
Hi Just wondering if there is any news on a bus to Ballybofey for the Donegal vs Antrim Championship match? Thanks Rory
---
CASEMENT SOCIAL CLUB will be running a bus to both games ( number depending).....
HURLING: Christy Ring semi final ,  Antrim V Down - Saturday 20th May in Cushendall. Bus departs the club at 3-00pm and Cushendall 30 mins after the final whistle.
FOOTBALL : Ulster championship First round, Sunday 21st May in Ballybofey V Donegal. Times to be confirmed.
Please Text JOE 07719952072 to book a seat. Tickets will be available from Tuesday 16th in the club.  HURLING £10. FOOTBALL £20  Price includes a complimentary drink on return to Casement 
G
7th May 2017
Just read , letter from coach, I seen this sort of thing before. Please keep going, we can not do without your help The kids appreciate it even if some parents don't
ODR
3rd May 2017
Great match on Monday night against our old foe St Johns, great atmosphere for the local derby. Bright future ahead for the Johnnies fair play great win. #ODR
Fixtures
24th April 2017
Is it not crazy for senior football fixtures to be fixed for 7:30 on Wednesday evening? Last weeks fixtures threw-in at 7pm and it was almost dark at the end. 7:15 may have been ok but definitely not 7:30.
Sean
24th April 2017
Just to answer Fra's question in regard to Development Squads. Yes they were playing at the weekend up in Belfast. Both the U14s (Split into North Antrim & South Antrim Squads) and U16s struggled but the U15's competed very well with what was a very large 30+ panel of players who all seen game time. The distinct lack of PR in regard to Kilkenny bringing 3 squads of players all the way up to Antrim to play us at these agegroups is very strange considering the excellent job being done by the PRO.
---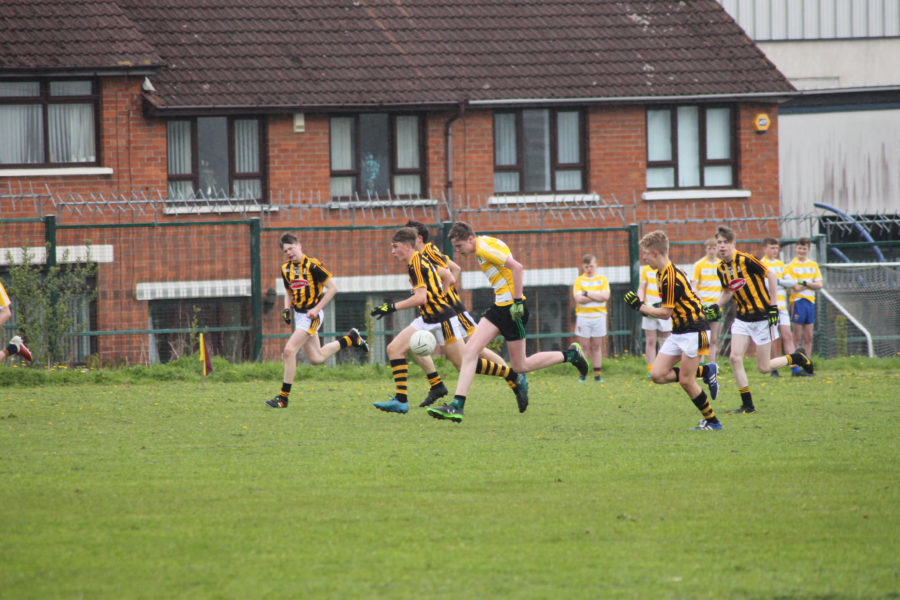 I wouldn't say a distinct lack of PR to be honest. Plenty of PR on Facebook and Instagram and a few tweets which have been gratefully acknowledged in Kilkenny itself.
Heres a link for you to enjoy. http://antrim.gaa.ie/news/antr...
I myself was in Carlow tweeting and promoting the Fabulous comeback of our hurlers in the christy ring..
#AllGood #AlwayslookingMoreAssistance. 
I hope you like live matches streamed. #ComingSoon.
pete
22nd April 2017
Jaysus keeping up with twitter today, a hard fought win for our senior hurlers today..... Máith thú..... #antrimabú......
---
A fantastic battling performance from a never say die team today. Not good for the twitter nerves. Twitter didn't do justice to the vocal support today and the fact that the Antrim supporters roared on the players in the last 2 minutes of extra time.
A GOOD DAY FOR THE SAFFRONS!
#NothingBeatsBeingThere