County Crest
County Crest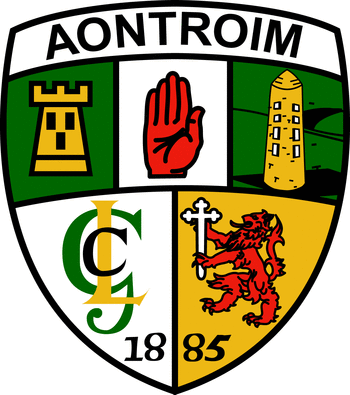 "The old badge that was used by County Antrim was actually a historic badge for both Antrim Town and County.

When the county started to look for a change away from this, about 8 years ago, there were quite a number of different designs put forward and with the help of O'Neills Sports Design department in Dublin, we came up with the badge that you see now and it was registered both in Ireland and in Europe and this was done formally through a firm of solicitors in Dublin who specialise in this type of thing.

The Red Hand of Ulster was retained for obvious historic reasons and also the "lion rampant" was the link to the old badge, so it was felt that this should be included.

The Castle and Round Tower were symbols of Ancient Celtic and Irish tradition in County Antrim and a number of examples are well known, Dunluce, Carrick, Kells and so on.

The CLG ( Cumann Luthchleas Gael ) motif was taken from the centre piece of the " hurlers shield " which I hope is still on the wall in Casement Social Club and this dates back to 1907; the distinctive design was also used in the jerseys as a background ghost type of image, up to about 2006.

The 1885 date comes from the five clubs in Antrim who registered with the fledgling Gaelic Athletic association in 1885 and there is historic records and proof of this registration."