Guestbook
Guestbook
Please remember the CLG Aontroim Guestbook is moderated, and all posts will only be visible after approval from a member of County Executive.
PLEASE NOTE THE GUESTBOOK IS NOT INTENDED FOR NOTICES OF FIXTURES OR RESULTS AND NONE WILL BE POSTED.
---
Player
12th January 2018
When will dates for league/championship will be out wife wants to book a hoilday
---
The championship draw will hopefully be next Monday 22nd providing clubs have their documentation in for Wednesday  17th
Rory
21st November 2017
Thanks for the view of the nominations. Are there any motions or recommendations available to view - particularly any proposed changes to the league structures ?
---
Distribution of Convention Booklets to the clubs will be happening very shortly then the motions & recommendations will be posted.
Rory
19th November 2017
Where are the nominations for county convention available to view? Thanks
---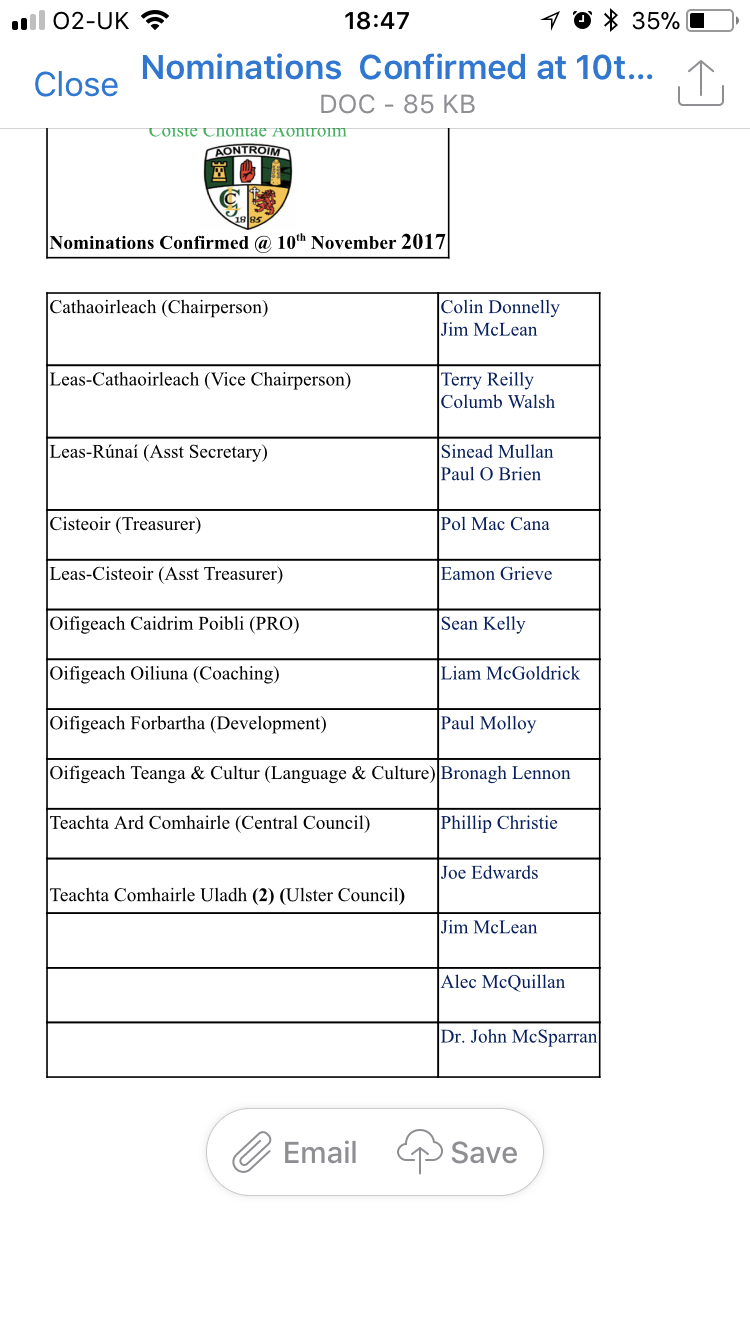 Private Ryan
16th November 2017
Surely Crumlin 4G and Woodlands 4G can host them,if it's good enough for the B grade it should b good enough for the A
---
Due to the unavailability of pitch's the 2 semi finals will be played at Woodlands this Sunday 
u21 Semis
14th November 2017
Why no venues for this weeks semis ?
---
The weather is wreaking havoc with pitches. We will let you know as soon as we know.
Gerry lismore
4th November 2017
Great website
Antrim Secretary
16th October 2017
Any player who wishes to trail for the 2018 Antrim Senior football squad is asked to attend a trial game(s) on Saturday / Sunday 21st and 22nd October at 11am at Dunsilly. Nominations must come via the Club Secretary ( and returned to the Co Secretary by 12noon on Thursday 19th October) and contain the following information  Players name  Preferred position  Sat / Sunday trial Note Members of the 2017 Antrim Senior football championship panel are not required to attend
Deko
10th October 2017
What's the draw for the graded round of u21 championship ?
---
The U21 championship will be redrawn this week and published as soon as it has been made.
Supporter
10th October 2017
How much is it into Sundays Championship finals in Glenavy?
---
£10 entry
£7 concession 
All ticket only. ticket selling details to follow.
#BeThereAllTheWay
U21 football championship
7th October 2017
Once again, u21 football championship being played at a time when most players of this age group could be in work. What's wrong with a Sunday for matches?
Eileen Perry
2nd October 2017
Being in Bunbeg, Donegal at the weekend wasn't able to catch the Lámh Dhearg game but thanks to the pro for the cracking twitter updates felt as if we were there. Maith Sibh uilig
---
It was a good weekend of club championship Eileen. Glad you enjoyed the tweets 👍
Jim McLean
1st October 2017
The Scor adventure for Gaels is good for our clubs. Please support the upcoming Scor events and make sure your Club is there. Adh mór.
Supporter
6th September 2017
When will the dates and venues be released for the upcoming Senior Football semi finals?
---
finals
4th September 2017
any idea where the junior / intermediate hurling finals will be played have they been decided ? 2 Belfast teams in those finals so surely it would be somewhere like Ballymena / tir na og ?? knowing our county it will probably end up in armoy or careys pitch
---
finals
29th August 2017
any idea where the junior / intermediate hurling finals will be played
---