Guestbook
Guestbook
Please remember the CLG Aontroim Guestbook is moderated, and all posts will only be visible after approval from a member of County Executive.
PLEASE NOTE THE GUESTBOOK IS NOT INTENDED FOR NOTICES OF FIXTURES OR RESULTS AND NONE WILL BE POSTED.
---
Fra
20th April 2017
Is there an Antrim Cup this weekend for some of the development squads ?. If so who ,where and what times . Thanks
---
Phone the office in the morning and ask.
Thanks
Gaeltacht
20th April 2017
Will be the county be offering any scholarships for the Gaeltacht for this years summers courses. Other Ulster counties have just released some with deadline in the next few weeks.
---
Email Bronagh Lennon. Bronagh's details are on the website.
Sean
20th April 2017
Just to alert supporters attending the Antrim v Carlow match at Network Cullen Park on Saturday that Carlow also play Kildare there in the first round of the Leinster Minor Football Championship at 1pm. Hope the pitch is in good order. Allow extra time for traffic and parking. Come down and support Antrim, make a lot of noise. Antrim exile
---
Yes we hope there will be a large saffron support at the game.
Are you aware ?
14th April 2017
Servasport Fixtures System is down - Cant see the fixtures
---
Yes- Its down, we have informed servasport. We haven't got any feedback as to when it will be up.
Ramey mc kenna
13th April 2017
Any word on venue and match time for the christy ring game against carlow on the 22nd
---
It will be played at the  Netwatch Cullen Park. Time to be confirmed.
Manny Hawthorne
6th April 2017
Hello to all, so I came across the Antrim GPA by way of Facebook. Formerly I lived in Antrim, Carrickfergus, now living in Canada, and would very much like to keep in touch and support the club. If you could send me some information and add me to your newsletter, I would very much appreciate it. Thank you Manny
---
Follow our website for the latest news and twitter @AontroimGAA 
Div3/4
2nd April 2017
Even though the fixtures aren't out yet for the new Div 3/4 can we assume the dates of the matches will be the same as previously listed?
---
Details are now out regarding Div 3/4
tony dougan
30th March 2017
Where can I read about Antrim hurling managers thoughts/comments on hurling dying in Belfast..
---
John
30th March 2017
Good luck to St John the Baptist primary school boys gaelic footballers who qualified for next week's Raffo Cup final, 1st time in 20 years. Good luck also to the girls gaelic football team of SJB who also qualified for the A final first time in the schools history, both games at woodlands Friday 7 April.
---
Aislinn Elliott
30th March 2017
Good luck to both Antrim teams this weekends, lets make Antrim great!!
---
football fan
29th March 2017
I agree with you admin,Sundays match against Longford is a huge match for our senior footballers. I would say its far more important than the championship so lets get as many supporters along to Corrigan as we can. In a tight game the roar of the crowd can make all the difference.
---
Its undoubtably the biggest match of the year for our footballers.
 It would be tremendous to consolidate our position in Divison 3! 
The lads need the 16th man. Lets make our way to Corrigan Park. 
#SaffronRoar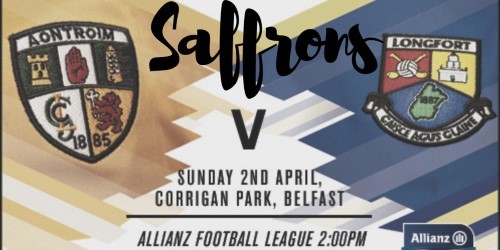 FIXTURES
29th March 2017
ANY WORD ON DIV 3/4 FIXTURES you said on 24/03/17 that would be out very soon ? 1st match 12/04/17 is that still on ? people have changed work shifts etc for this fixture can you confirm ? im sure the Monday meeting should have the answers to these questions
---
The CCCC are working on the fixtures.
Club player
26th March 2017
Was in Armagh last night to watch a great display by the Saffrons. Was looking forward to next Sunday's winner takes all game against Longford however me and other club players will miss the big game due to club league games next week. Surely these club games should be played before or after the county game to ensure maximum support at Corrigan Park. Can common sense prevail and sort this out please.
---
Yes, if the games can be arranged for earlier in the day and agreed between both teams than that will be fine. Contact the CCCC directly with agreement. 
It would be great to have a large support at this Sundays game in what is a massive game of our Senior Footballers.
fixtures
24th March 2017
any date when new fixture list will be available for div3/4 hurling ... looking to book holidays totally unfair that we don't have any dates of even confirmation of home matches to get pitches sorted
---
They are due out very soon.
Terry
20th March 2017
In response to the "St. Paul's find it below themselves to play in Div 4" comment. I find that comment very offensive and misleading. Im not one for tit-for-tat, but feel obliged to defend my club. A proposal was put forward, and as per our right, we didn't agree. We put forward another proposal which thankfully was agreed. On that note if our proposal hadnt been accepted, we would have been more than willing to play in division 4.