Latest News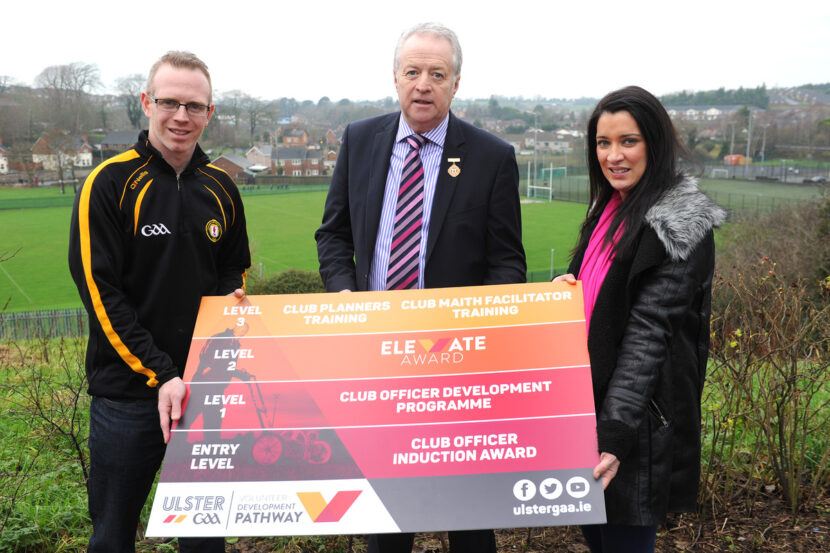 ​Ulster GAA launch impressive Volunteer Development Pathway
6th January 2016
---
Ulster GAA President Martin McAviney has today launched the new Ulster GAA Volunteer Development Pathway for 2016 which offers GAA club volunteers an opportunity to receive free training to assist with their personal development and build capacity within their individual clubs.
Launching the Ulster GAA Volunteer Development Pathway Martin McAviney stated, "Ulster GAA is committed to the development of our volunteers, both in terms of building knowledge and developing skills. This brand new Volunteer Development Pathway offers our club volunteers an opportunity to receive training, completely free to access, to help assist them in their roles in 2016. But our Volunteer Development Pathway is much more than this, we also hope it will help to build knowledge and develop skills to enhance the capacity of local clubs and to empower our volunteers.
"This Volunteer Pathway builds on the success of Ulster GAA's Player and Coaching Pathways and focuses on the club volunteer involved in the day-to-day running of a GAA club in governance roles."
There are four levels to the Ulster GAA Volunteer Development Pathway which begins this Saturday at 10am in Holy Trinity College in Cookstown with Entry Level: Club Officer Induction Award. Saturday's training is role specific to those NEW to club executives in 2016 to include training for NEW Chairpersons, Secretaries, Treasurers, PROs, Development Officers, Cultural Officers and Child Protection/Children's Officers. We have already a huge interest in the training on Saturday and anyone yet to register are encouraged to do so without delay by emailing Sharon.haughey.ulster@gaa.ie or phoning Sharon on 02837517180.
The next level in the Volunteer Development Pathway is Level 1: Club Officer Development Programme which is targeted for all club volunteers across all nine counties, the dates of these sessions are as follows:
Date

Venue

Targeted Counties

Thursday 14th January, 7pm-9:30pm

Abbey Grammar School, Newry

Down, Armagh

REGISTER BY EMAILING

Saturday 16th January, 10am-12:30pm

St Mary's School, Magherafelt

Antrim, Derry, Tyrone

REGISTER BY EMAILING

Thursday 21st January, 7pm-9:30pm

St Tiarnach's National School, Roslea Rd, Clones

Monaghan, Cavan, Fermanagh

REGISTER BY EMAILING

Tuesday 26th January,

7pm-9:30pm

Jackson's Hotel, Ballybofey

Donegal

REGISTER BY EMAILING
These four regional sessions will be held across Ulster providing club officers with an opportunity to attend one of four workshops of areas of priority for 2016. The workshops available at these events include:
Critical Response (Preparing for a crisis in your club)
Raising funds within your Club community (small, medium and large initiatives)
#DigitalCommunications (Promote your club across digital platforms)
Online Safety (Protecting young members & tackling bullying)
There are two further levels in the Volunteer Development Pathway including Level 2: Elevate Award and Level 3: Club Planners Training and Club Maith Facilitators.
Level 2: Elevate Award is a very exciting opportunity offered by Ulster GAA to clubs to receive expert training across leadership and development for key volunteers. The Elevate Award has been in development over the past year and ten clubs across the province will be selected to participate in 2016 commencing in February. This prestigious Award is a club award and requires volunteers from the club to undertake high level training provided by expert tutors over a 4 week period. For more information on this exciting new opportunity please contact fionntan.odowd.ulster@gaa.ie or phone Fionntán on 02837517180.
Level 3 is for outstanding GAA volunteers who have been involved in various governance roles over the years. Their experience and knowledge is invaluable to mentor and assist other clubs develop their club plans and to facilitate the highly successful Club Maith process. Anyone interested in progressing to this high level of volunteer development are asked to email maura.kelly.ulster@gaa.ie or phoning Maura on 02837517180.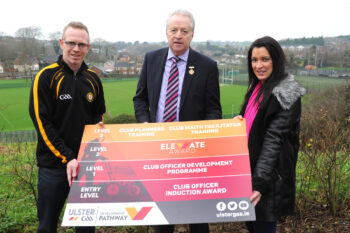 ---
Share This Story