Latest News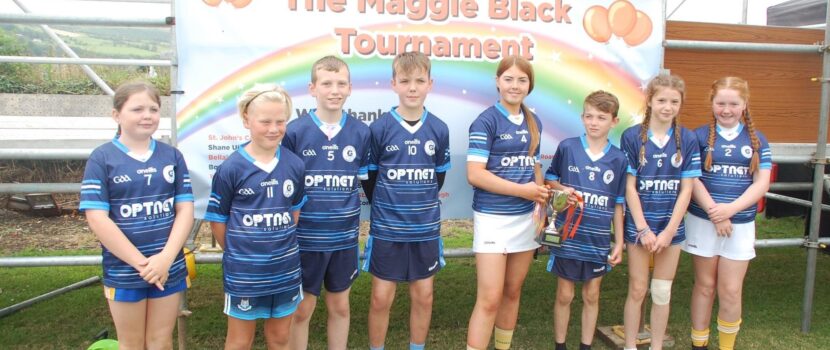 The Maggie Black Tournament 2022!
1st August 2022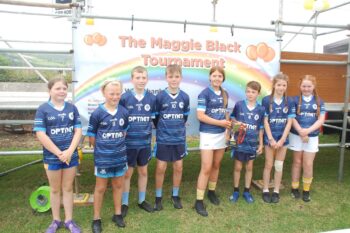 🌈🧡 The Maggie Black Tournament 2022 🧡🌈

What a week! We are so proud of the girls and boys from St. John's and Shane Ui Neills as well as the guest players from further afield in what was a fantastic week of hurling and camogie at Stoneyhill. The kids were a credit to their clubs and their families.
Overall, 32 matches took place this week with somewhere in the region of 120-130 children playing and many more helping out as referees, umpires, score keeping and time keeping.
We had amazing crowds every night and the support from everyone has been phenomenal. We had a lot of special guests today and the kids loved seeing the stars from Antrim Hurling and Camogie.
In the Fundamentals/U-6 age group, Dublin came out on top, while Antrim won the U-7/U-8 group. Dublin were also victorious in the U-9/U-10 group and heading into the final match of the day between Dublin and Cork in the U-11/U-12 Cup Final, the trophy could still have been won by Dublin or Cork thanks to The Rebels consistent performances across each age group.
In the end, Dublin edged Cork in a thriller to ensure that it would be their captains, Clodagh McAuley and John Taggart that would become the first to be presented with the trophy as winners of The Maggie Black Tournament.
To the Black Family, thank you for placing your trust in us and letting us pay tribute to Wee Maggie in this way. Twice this week the most beautiful rainbows have appeared out at Stoneyhill and we like to think that was Maggie letting us know that she was watching out for the boys and girls.
This last week has been a real privilege and we can't wait to start planning for The Maggie Black Tournament 2023 alongside our good friends at Shane Uí Néill GAC!
🌈🧡
---
Share This Story