Latest News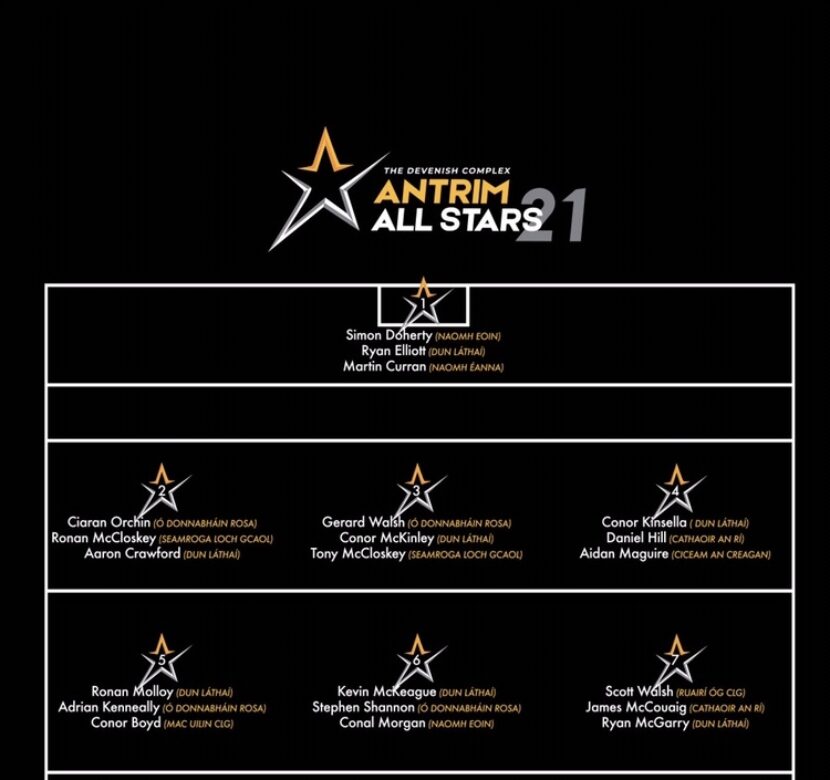 The Devenish #AntrimAllStars21 Hurling Shortlist! VOTE NOW
13th October 2021
The Devenish #AntrimAllStars21 Hurling team of the Year SHORTLIST-VOTE NOW!
👉🏻 thedevenishallstars.com

After an enthralling 2021 Antrim Hurling Club Championship that produced so many memorable matches, individual displays and duels at Senior, Intermediate and Junior level.
Our judges had the onerous task of short-listing three players per position ahead of the All-Stars evening.

1: Simon Doherty (NAOMH EOIN)
Ryan Elliott (DUN LÁTHAÍ)
Martin Curran (NAOMH ÉANNA)
2: Aidan Orchin (Ó DONNABHÁIN ROSA)
Ronan McCloskey (SEAMROGA LOCH GCAOL)
Aaron Crawford (DUN LÁTHAÍ)
3: Gerard Walsh (Ó DONNABHÁIN ROSA)
Conor McKinley ( DUN LÁTHAÍ)
Tony McCloskey (SEAMROGA LOCH GCAOL)
4: Conor Kinsella ( DUN LÁTHAÍ)
Daniel Hill (CATHAOIR AN RÍ)
Aidan Maguire (CICEAM AN CREAGAN)
5: Ronan Molloy (DUN LÁTHAÍ)
Adrian Kenneally (Ó DONNABHÁIN ROSA)
Conor Boyd (MAC UILIN CLG)
6: Kevin McKeague (DUN LÁTHAÍ)
Stephen Shannon (Ó DONNABHÁIN ROSA)
Conal Morgan (NAOMH EOIN)
7: Scott Walsh (RUAIRÍ ÓG CLG)
James McCouaig (CATHAOIR AN RÍ)
Ryan McGarry (DUN LÁTHAÍ)
8: Paul Shiels (DUN LÁTHAÍ)
James McNaughton (SEAMROGA LOCH GCAOL)
Shea Shannon (NAOMH EOIN)
9: Keelan Molloy (DUN LÁTHAÍ)
Deaglan Murphy (Ó DONNABHÁIN ROSA)
James Duffin (CONN MAG AOIDH)
10: Domhnall Nugent (NAOMH EOIN)
Eoin O'Neill (DUN LÁTHAÍ)
James Black (CATHAOIR AN RÍ)
11: Michael Armstrong (Ó DONNABHÁIN ROSA)
Christy McNaughton (RUAIRÍ ÓG CLG)
Kevin Molloy (DUN LÁTHAÍ)
12: Stephen Beatty (Ó DONNABHÁIN ROSA)
Conlaoth McNeill (ROIBÉARD ÉIMÉID)
Michael Dudley (NAOMH EOIN)
13: Declan Traynor (CONN MAG AOIDH)
Chrissy McMahon (DUN LÁTHAÍ)
Fred McCurry (RUAIRÍ ÓG CLG)
14: Conal Cunning (DUN LÁTHAÍ)
Chris McGuinness (Ó DONNABHÁIN ROSA)
Neil McManus (RUAIRÍ ÓG CLG)
15: Seaan Elliott (DUN LÁTHAÍ)
Conor McBride (CATHAOIR AN RÍ)
James O'Connell (GHAEIL CHLUANAIDH)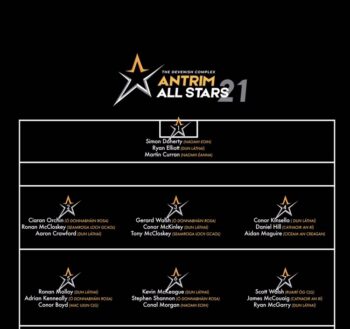 ---
Share This Story