Latest News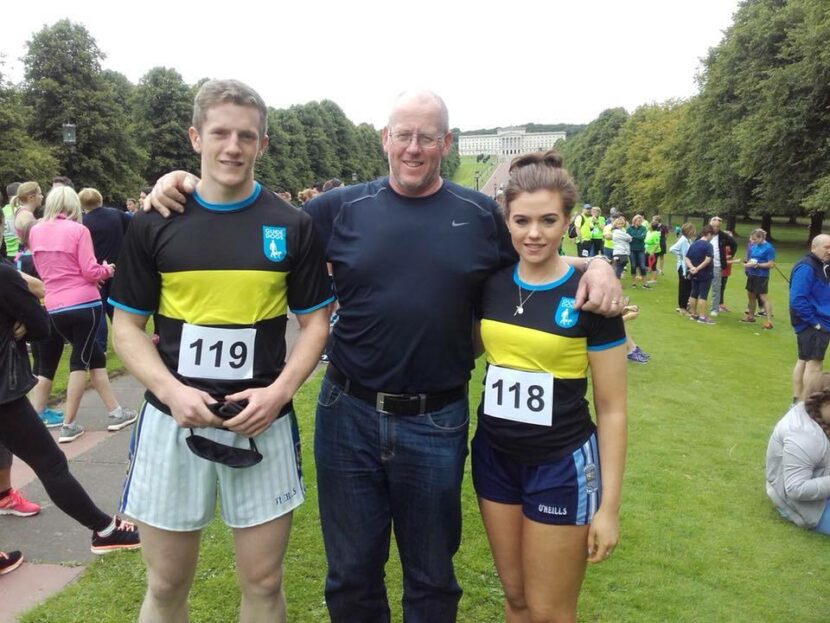 'Supporting Guide Dogs for the Blind' - Rasharkin Healthy Club Project
7th November 2017
'Supporting Guide Dogs for the Blind' 
One of the main aims for the Healthy Club project team in St Mary's GAA Club, Rasharkin is providing physical activity programmes to encourage community participation and inclusion. One of their best supported community events was the 55km walk from Rasharkin to the Giants Causeway in support of Guide Dogs for the Blind. 
The club decided to support this worthy cause after Brian Doherty, father of two club players, was diagnosed with Retinitis pigmentosa, a degenerative eye disease which left him with only 10 % vision. This life- changing diagnosis resulted in Brian having to give up his career and driving the car, two of the things he enjoyed the most. Brian battled with depression for years, struggling to accept his condition but in 2016 he decided he wanted to fundraise for Blind Dogs NI with a sponsored walk. Brian admitted that he didn't know how to go about involving others from the local community and although both his children played for St Mary's Rasharkin he did not feel part of the club as he had nothing to offer nor to gain. 
Brian heard that the club were involved in the GAA's Healthy Club initiative and decided to get in touch with the Club Health and Wellbeing Officer, Terry Hasson. Brian soon felt comfortable reaching out the club and extended community with the help and support he received from the club. 
"What started out as a one man band became one of the best supported events in the club" 
On the 10th of July Brian embarked on his 55km challenge with his son Tiernan by his side, taking in some of the toughest terrain in Co. Antrim. Fifteen hours later Brian crossed the finish line with his twins, Tiernan and Mairead (19), while being cheered on from his wife, Corinne. Brian was absolutely humbled and privileged by the kind support from the club and the community and revealed that "he was the proudest man on earth". Brian is now a dedicated member of the Healthy Club project team and says "I now know what it feels like to belong to the GAA family and more importantly I know what a community is all about". Brian and the Healthy Cub project team are committed to ensuring that no one in their community goes without support when it is needed.
---
Share This Story