Latest News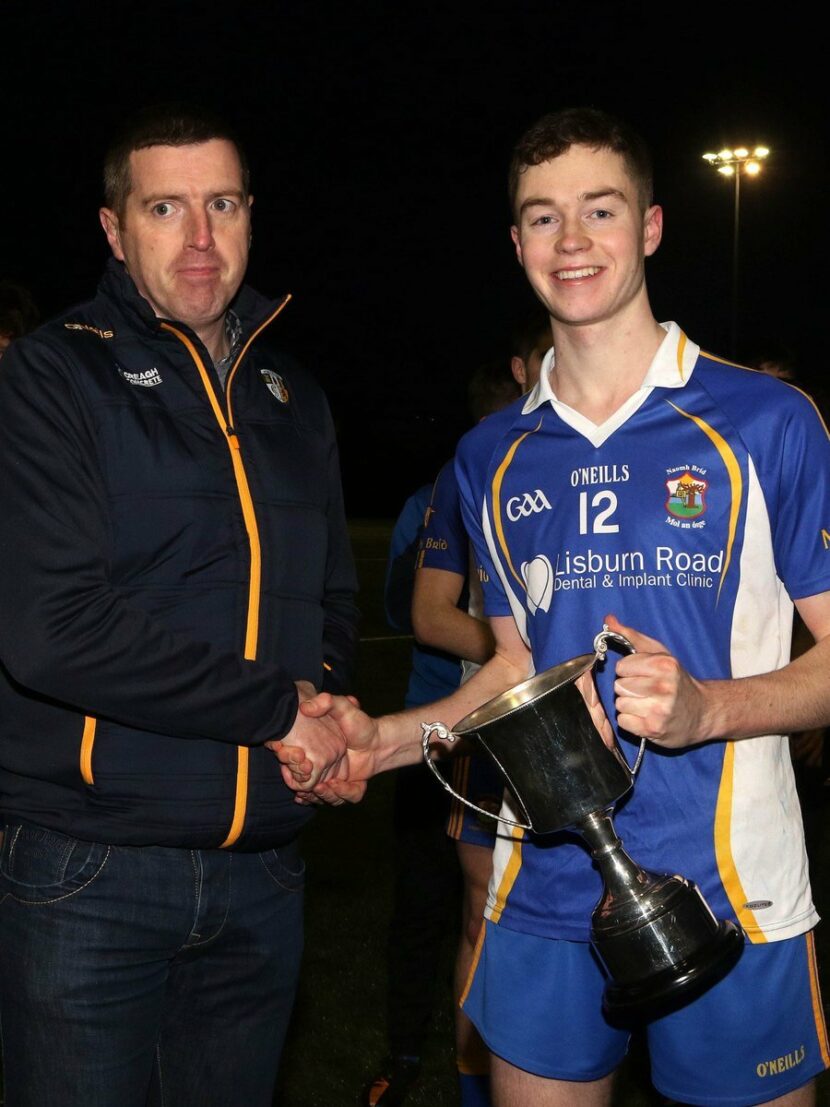 St. Brigid's - Under 21 Champions!
16th December 2018
St. Brigid's storm back in final-quarter to claim title
#Report by the #SaffronGael

Antrim U-21 Football Championship 'A' Final
St Brigids 2-11-2-07 Dunloy
By Kevin Herron at Colaiste Feirste
St Brigids claimed the Antrim U-21 football championship after a 2-11-2-07 win over Dunloy in an action packed final at Colaiste Feirste this afternoon.
Dunloy were in the ascendancy in the opening quarter but a goal from John Blaney midway through the first-half gave St Brigids the initiative – they would hold a slender advantage at the break despite Eoin O'Neill fisting to the net in the last desicive moment of the opening thirty minutes.
Dunloy regained the lead through a deflected Conal Cunning goal but St Brigid's fought back and were helped by a break for floodlight failure, after-which it was the Musgrave side who bossed the final quarter and secured the win thanks to a James Smith goal three minutes from time.
St Brigid's will be Antrim's representatives at next months Paddy McLarnon Cup tournament at Creggan.
Yesterday's inclement weather saw the game delayed 24-hours but it only served to whet the appetite for an encounter which many predicted before a ball was kicked in the tournament .
Dunloy arguably went into the final as slight favourites and showed why in the opening quarter of both halves.
But St Brigids edged in front after three minutes at Colaiste Feirste – James Smith found midfielder Patrick Finnegan with a fist pass and Finnegan evaded a challenge and popped the ball over.
A confident point from Conal Cunning restored parity and Dunloy were on the front foot following their equalising score – Cunning switched the ball to Eoin O'Neill who produced a fine point from the tightest of angles, Keelan Molloy then shot straight between the posts to give Dunloy a0-03 to 0-01 lead with six minutes on the clock.
St Brigids lost corner forward Ethan Carleton to a 10th minute black card – but midway through the opening half the Musgrave Park side hit the front.
James Smith picked out John Blaney who was sandwiched in traffic inside the Dunloy area but was able to guide the ball past Francis Cochrane in the Dunloy net to give his side a 1-01-0 to 03 lead.
A wayward pass from an unopposed Dunloy free led to Patrick Finnegan's second point of the afternoon, though Conal Cunning combined with Keelan Molloy who composed himself and pointed to bring the deficit back to the bare minimum.
Successive points from Peter Webb and Michael Cummings had St Brigids 1-04 to 0-04 ahead with little under ten minutes to the break – despite Deaglan Smith hitting back with an excellent curling point; a converted free from Webb and point from James Smith had their side 1-06 to 0-05 ahead with five minutes to the break.
St Brigid's were dealt a further blow before the break as Webb was black carded for an off the ball challenge and a minute before the midway whistle Dunloy had a lifeline.
Keelan Molloy's punted pass forward was palmed to the net by Eoin O'Neill and at the break St Brigid's lead by the minimum, 1-06-1-05.
St Brigids increased their lead upon the resumption as Patrick Finnegan picked out Peter Henvey for a well taken point.
Conal Cunning responded with a shot from the wing that dropped over the bar and on 38 minutes the lead changed hands for a third time.
Eoin O'Neill combined with Conal Cunning whose low shot was deflected to the net by the unfortunate Henry McGuigan as Dunloy took a 2-06 to 1-07 lead.
The sides traded scores through John Blaney and a converted free from Sean Elliott – just before an unscheduled break due to floodlight failure a converted James Smith free in front of the posts made it a one-point game midway through the second-half, 2-07 to 1-09.
The break definitely benefited St Brigids as the final fifteen minutes saw Dunloy draw continuous blanks, while the Musgrave side kicked on and hit 1-02 without reply.
Dunloy will rue three successive wides – including a gilt edged miss from Chrissy McMahon after intercepting a wayward pass from a free.
Ten minutes from time the game was all square as Brogan Austin's high ball was collected by Smith who shot over the bar to level proceedings for just the second time in the game.
Michael Cummings edged St Brigids ahead for the second time on the 54th minute and three minutes from time a second goal sealed the game.
James Smith played a one-two with Conor King and fisted the return pass over Francis Cochrane and into the net to give St Brigids a 2-11-2-07 lead.
Try as they might Dunloy couldn't respond and finished the game with fourteen men as Ryan Eliiott saw red late on.
It had no bearing on the end result however as St Brigids ran out four point winners to take the U-21 crown and ensure they will represent Antrim in the Ulster Championship next month.
St Brigids: J Toner, D McGarvey, C King, J Morgan, B Austin, H McGuigan, O Boyle, P Finnegan (0-02), P King, P Webb (0-02,0-01f), J Blaney (1-01), M Cummings (0-02), E Carleton, J Smith (1-03, 0-01f), P Henvey (0-01). Subs: B McCarthy for E Carleton (11 mins – black card), P Bradley for P Webb (27 mins – black card), D Foster for B Austin (56 mins).
Dunloy: F Cochrane, C McQuillian, C Kinsella, A McGrath, C McMahon, R Elliott, A Crawford, C Scullion, D Smith (0-01), E McGrath, K Molloy (0-02), E O'Neill (1-02), A Smith, C Cunning (1-01), S Elliott (0-01f). Subs: C McGuigan for A Smith (40 mins), R McFarland for K Molloy (61 mins).
Referee: Sean Laverty (St Ergnat's Moneyglass).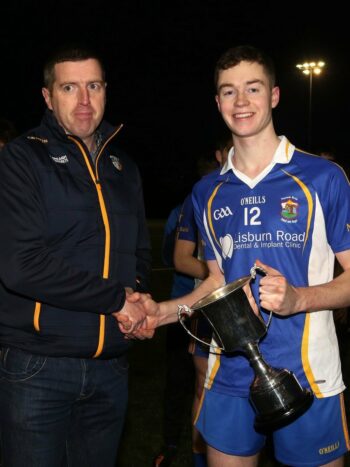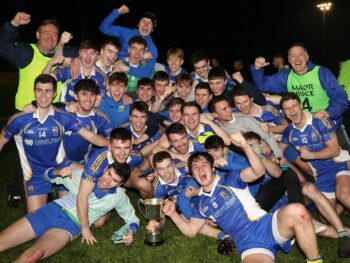 ---
Share This Story