Latest News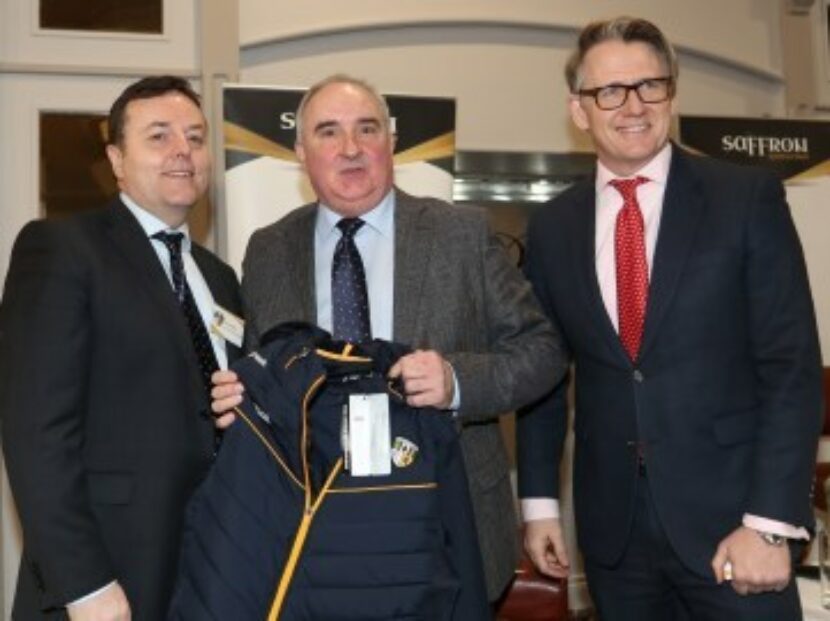 Saffron Business Forum defeats #TheBeastFromTheEast
4th March 2018
Former Chief Executive of Belfast City Council and current chairman of Belfast Health and Social Care Trust Dr Peter McNaney was the guest speaker at Friday morning's Saffron Business Forum breakfast in the Balmoral Hotel, Belfast. Despite the artic conditions almost 140 guests were in attendance as Dr McNaney, a former Bredagh GAC player and club committee member, kept his audience entertained with stories of his former playing days and his some of his business experiences over the years.
Those in attendance were also addressed by Seana Rooney of Andras House Hotels, John Brolly of the Irish News and Frankie Devlin of KPMG and everything was kept running smoothly by MC and Saffron Business Forum's Paul McErlean.
Above – Dr Peter McNaney and Paul McErlean on stage
Dr McNaney is presented with an Antrim GAA jacket by county chairman Collie Donnelly.
The event was a huge success and business cards were exchanged at the end of the event.
The Saffron Business Forum facilitates Businesses local or national with an affinity to Antrim GAA with a forum to promote their business interests and gain access to a wider market by association with a large sporting organisation. 
The Saffron Business Forum will promote business between its members and others through networking, business referrals and social media. It represents the interests of the business sector at local and national level. It is a key stakeholder in promoting and maximising economic development for Members and Associates. 
The forum will meet 4 times a year, one time each quarter. 
Members and Associates include:
Antrim GAA Corporate & Commercial Sponsors
Other Corporate and Commercial Business representatives
Antrim GAA Patrons
Local Businesses and SME's
Benefits of Membership include
Networking opportunities
Business Referrals
Business Information Seminars & Workshops
Marketing and Promotional Initiatives
Representation and Lobbying
Antrim Championship pass
Limited addition Saffron Forum coat
SAFFRON BUSINESS FORUM
JOIN TODAY! #SaffronBF
---
Share This Story