Latest News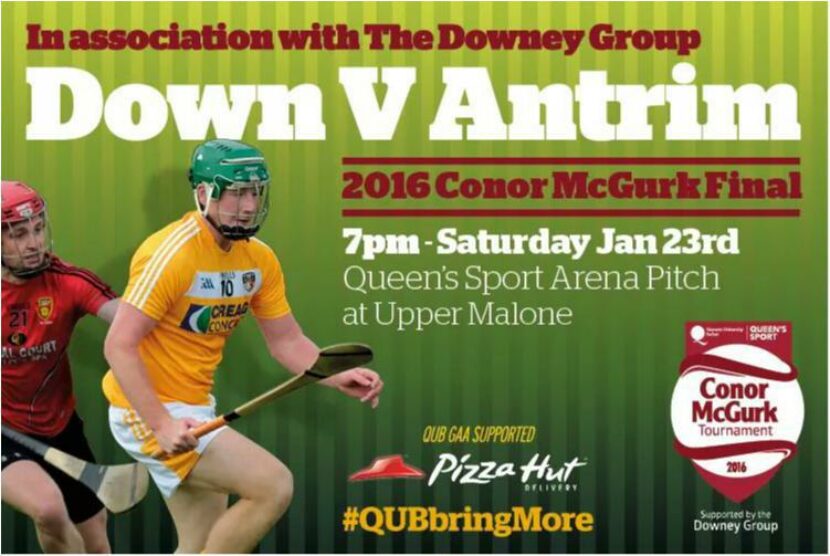 Queen's University host the 2016 Conor McGurk Final in association with The Downey Group
21st January 2016
Saturday night marks the conclusion of the 2016 Conor McGurk tournament, in association with The Downey Group, and sees old foes Antrim and Down clash in what will be an ideal stepping stone towards national league fare for both teams.
The competition has facilitated group games for six county and two university teams and has been hosted over the last three weeks entirely at the Queens University's playing fields at Upper Malone. The tournament, run by the University's Hurling Club in partnership with the Ulster Council, has been a huge success providing valuable competitive games for each of the entrants.
Over a three week period there has been twelve competitive games played and the quality of hurling did not disappoint. Although high scoring games are not usually associated with "January Hurling". Highlights from the tournament so far include a thrilling 3.17 apiece draw between Down and Donegal and the dogged and tense affair that was the University derby between Queen's and UUJ which Jordanstown managed to shade by a couple of points.
Antrim secured their final birth after comfortable victories over Queen's, UUJ and Armagh while the Down men defeated Monaghan, drew with Donegal and narrowly eclipsed Derry to earn a competitive looking match up with the Saffrons on Saturday evening.
Down will look to former Queen's captain Conor Woods, Stephen Keith and Danny Toner for leadership and to continue their recent form. Antim will be hoping Neal McAulay, Eddie McCloskey (3-01 from play Vs UUJ)and Ciaran Clarke can continue to impress and inspire the Saffrons to a first piece of silverware in 2016.
2016 Conor McGurk Final in association with The Downey Group
7pm at the Queen's Sport Arena Pitch at Upper Malone
Down Vs Antrim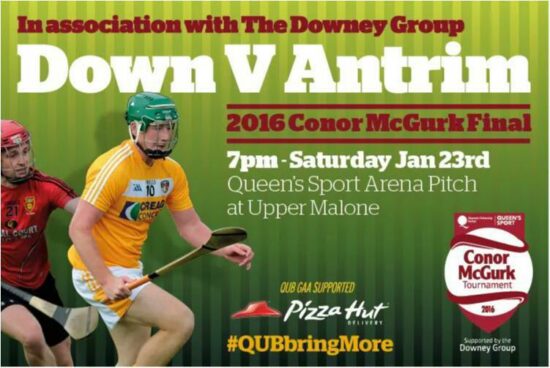 ---
Share This Story