Latest News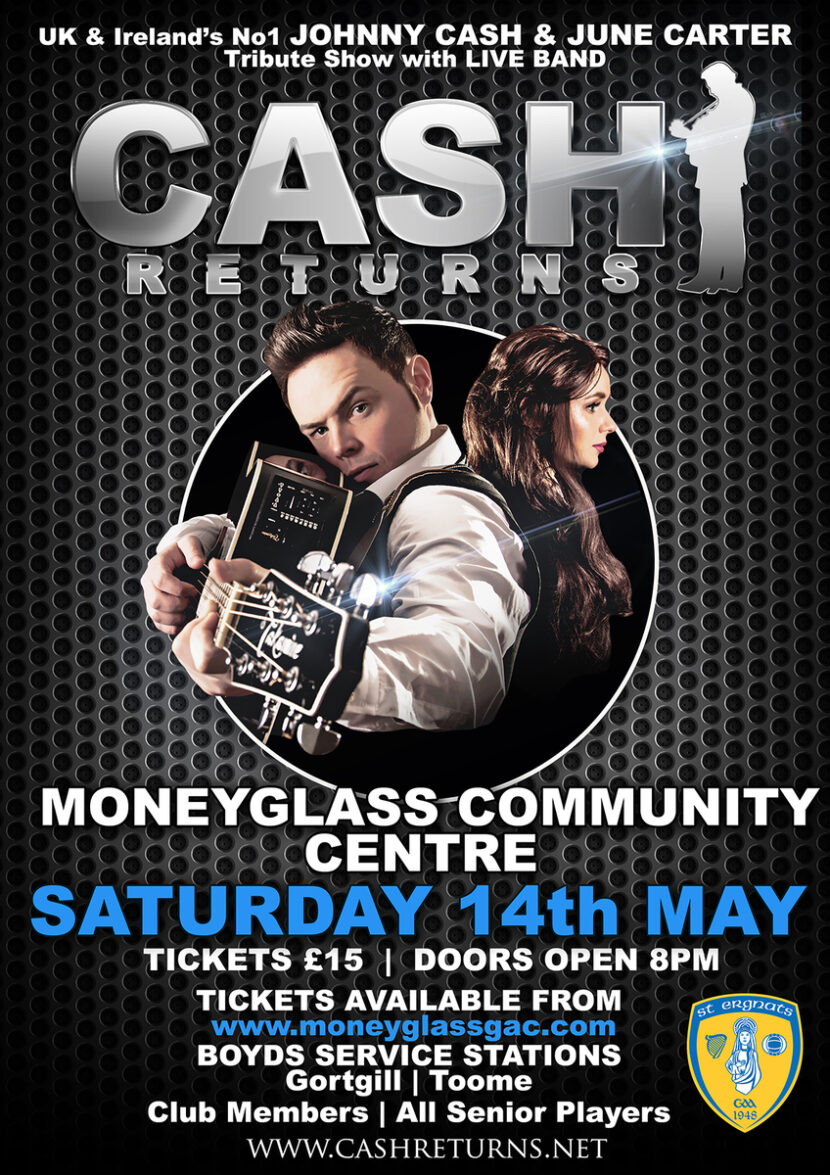 Newsflash: Johnny Cash is coming to Moneyglass
26th April 2016
CASH RETURNS Johnny Cash and June Carter Tribute Show - 14/05/2016
This has bee hailed the greatest and most exciting Johnny Cash Tribute in the UK and Ireland by fans and club owners alike. Now with a fantastic live and energetic six piece band, including the award winning JP Mac as Johnny Cash, whose baritone voice and tone is scarily uncanny to the Man in Black's himself. JP is then accompanied by his sister Caroline Parker, who takes on the role as June Carter with her larger than life onstage presence and fantastic voice. The combination of the two and their fantastic band are wowing audiences all over.
They have been playing in clubs, festivals, cabarets, hotels and theatres throughout the north and the south of Ireland and the UK for the past 2 years, while also having appeared on various radio slots nationally and internationally. An official accolade of support was also made from Johnny Cash's very own Drummer of near 40 years W.S (Fluke) Holland, who was completely blown away and regarded the tracks as 'quite amazing' on his radio show in Tennessee.
The show is currently playing to sell out audiences all over the UK and Ireland and now you have the chance to see him in Moneyglass (near Toome) Co. Antrim. If you go along to the show you will hear all the classics, 'Folsom Prison Blues', 'Get Rhythm', ' Walk the Line', 'Hurt' and of course the duo hit 'Jackson'. If you're a real Johnny Cash and June Carter fan, you cannot afford to miss this spectacular show.

This is sure to be a FANTASTIC night for young and old! Johnny Cash is coming to Moneyglass and if you like Johnny you'll love this tribute act. Along with June Carter, this band will get even the unlikeliest of people off their seat and onto the dancefloor! Have a listen at http://www.cashreturns.net/ and join the queue for tickets, available at Boyds Service Stations, from Senior Players and now available at http://tinyurl.com/jv8hjxv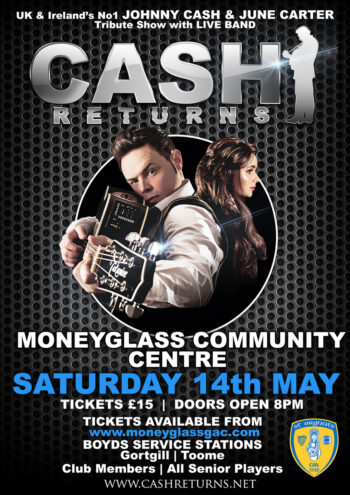 ---
Share This Story