Latest News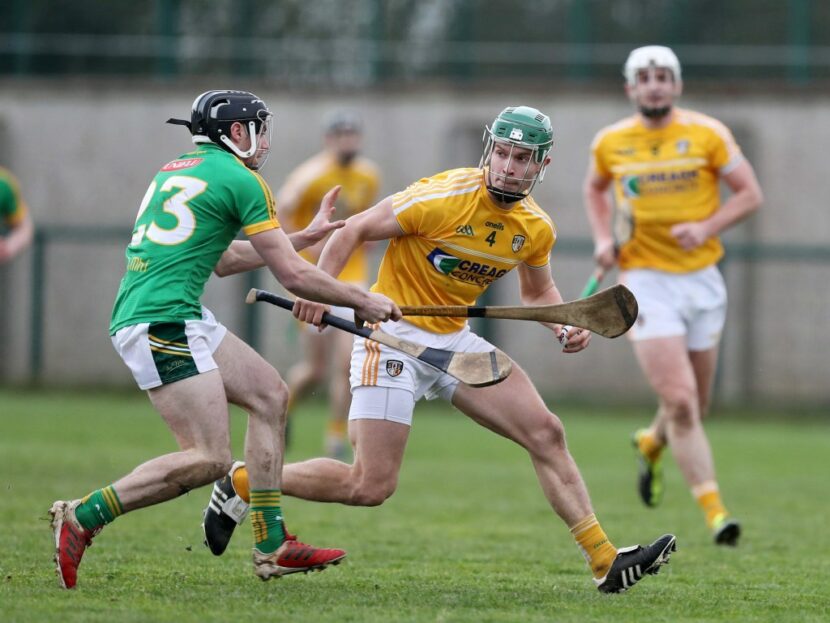 Meath 2-18 Antrim 5-25 #JoeMcDonaghCup
6th May 2018
Joe McDonagh Cup – Round 1 – Saturday May 5
Meath 2-18 Antrim 5-25
Brendan McTaggart reports from Páirc Tailteann, Navan
Before a ball was struck, this was being billed as one of those matches that was too close to call.  It was supposed to be a toss of a coin with little between the sides.  What transpired was, from an Antrim perspective, sensational.  For a few years, Antrim have threatened this type of performance.  When everything would click.  A performance where it would be impossible to choose a man of the match performance.  20 players used and easily half could have a strong case for the accolade.  Conor Johnston, footwork that would have put Michael Flately to shame.  Joe Maskey, just gets better and better.  Conor McKinley, captain and leader – as good a performance as I've witnessed from the Dunloy man in an Antrim shirt.  Eoghan Campbell, could star in any position such is his natural ability and versatility but it's hard to look past someone who scores a hat-trick and turn the tide, even after shooting the wrong way at the start of the match.  Nigel Elliott has shown glimpses of brilliance in an Antrim shirt this year while excelling for the Cuchullains during the league.  On Saturday afternoon in Páirc Tailteann, Elliott was unplayable.  Unstoppable.  Unpredictably brilliant.  Three goals that show cased his blistering pace, power and accuracy.  The only time he wasn't accurate was when he shot for point at Ryan Elliott's goals seconds after throw in.
Antrim would have been looking for a fast start playing with the wind in the first half.  What they got was a near 'own-point' and the concession of two goals in the opening 10 minutes.  Bizarre.  It was the exact reversal of what the Antrim management would have been speaking about before the match started and Meath were tactically getting the better of Antrim.  Two goals for the home side in the opening nine minutes from Gavin McGowan and Alan Douglas left it looking like a long afternoon for the Saffrons.  McGowan and Douglas were causing problems in the Saffron full back line while Jack Regan was dropping deeper to lend his energy around the midfield.
In attack, it wasn't a bad start for Antrim.  Of their opening seven points, just one came from a free while Johnston, Elliott, Carson and McManus all found the target but once Antrim abandoned their sweeper tactics the tide began to turn.  Conor McKinley dropped into the full back line to man mark Douglas with Ryan McCambridge moving to the '40 while Eoghan Campbell joined Simon McCrory in midfield.  A move to counter the threats Meath possessed, a move that turned the game in Antrim's favour.
In the 20th minute, McGowan scored his second point of the match to give Meath a seven point lead, that would be the home sides last score for 20 minutes.  Antrim went through the gears and left the Royals in their wake in a blistering display of hurling.  The hurling equivalent of the Midas touch.  Antrim's first goal came from what has now become a trademark solo run from Elliott and a drop of the shoulder so slight yet devastating.  A finish that we're familiar with – style and panache.  What followed was a wave after wave of Saffron pressure as the Meath defence all but crumbled.  Donal McKinley, renowned for his tackling and harassing in attack landed two points in as many minutes while Neil McManus scored his fifth point of the match.  Simon McCrory split the posts in the 33rdminute before Joe Maskey ran 60 yards before landing a point wide on the left to give Antrim a two point lead.  Michael Armstrong with the final say of the half as Antrim turned an eight point deficit into a three point half time lead with a score line of 1-14 to 2-8.
Such was the Antrim dominance, Meath didn't or couldn't muster a shot in anger at the Antrim goals.  The Saffrons recorded three wides during that period, eight overall in the first half while the home side recoded just two.  Half time couldn't come quick enough for Meath.  They needed to regroup but after the restart, Antrim hit further heights.  Eoghan Campbell opened the scoring after the restart before Regan landed his fifth of the match and Meath's first score for just over 20 minutes.  It did little to derail the Saffron charge.  McManus landed two frees either side of a point from half time substitute Conor McCann after 45 minutes before Johnston scored Antrim's second goal of the match showing footwork that would have dizzied the best defenders in Ireland.  Armstrong the provider, pressing and harassing the Meath defence into an error and passing to Johnston left the Meath defence bewildered before drilling home.
Meath had no answer and Antrim were in no mood to lift their foot off the throttle.  By the 48th minute, Elliott had completed his hat-trick.  His second goal in the 47thminute before Paddy Conneely landed a point for Meath while his third was as serene as it was devastating.  Footwork that left the Meath defence mesmerised and another quality finish.  Beautiful.  He took a slap around his shins for his troubles but it meant Antrim were now 14 points ahead after just 13 minutes of the second half.  Blistering.
As the substitutes began to enter the fray, Antrim's game began to loose some of it's devastating fluency.  They still managed to maintain the 13 point lead with scores from Johnston, McCrory taking his tally to three for the match, Maskey, McManus and Elliott but it was Conor Johnston who had the final say when Antrim were rewarded a penalty in injury time after a foul on substitute Eoin O'Neill.  The St John's man lashing the sliotar to the bottom right hand corner on the stroke of full time to wrap up an emphatic victory in the blistering heat of Navan.
In a ground where Antrim teams have tasted mixed fortunes in the recent past with Cushendall and Creggan, the Saffrons finally put to bed the ghosts of Christy Ring past.  Onto Carlow now in Corrigan Park with optimism and pride.  Saffs Abu.
TEAMS
Antrim: Ryan Elliott; David Kearney, John Dillon, Ryan McCambridge; Paddy Burke, Conor McKinley (c); Joe Maskey; Nigel Elliott, Simon McCrory; Conor Carson, Conor Johnston, Neil McManus; Donal McKinley, Michael Armstrong, Eoghan Campbell.
Subs: Conor McCann for C Carson (HT); James McNaughton for E Campbell (55); Stephen Rooney for D Kearney (57); Matthew Donnelly for R McCambridge (65); Eoin O'Neill for D McKinley (68)
Scorers for Antrim: Nigel Elliott 3-2; Conor Johnston 2-4; Neil McManus 0-8 (7f); Simon McCrory 0-3; Joe Maskey 0-2; Donal McKinley 0-2; Eoghan Campbell 0-1; Michael Armstrong 0-1; Conor Carson 0-1; Conor McCann 0-1
Meath: Shane McGann; Niall Weir, Seán Gearghty, Stephen Morris; Joe Keena, Damien Healy, Shane Brennan; Keith Keoghan, Adam Gannon; James Kelly (c), Cathal McCabe, Eamon Ó Donnchadha; Alan Douglas, Gavin McDowan, Jack Regan.
Subs: Paddy Conneely for G McGown (31); Kevin Keena for E Ó Donnchadha (46); Seán Quigley for A Gannon (46); Padraig Kelly for Niall Weir (52); Colm Ó Méalóid for C McCabe (59)
Scorers for Meath: Jack Regan 0-12 (10f, 1 '65); Gavin McGowan 1-2; Alan Douglas 1-1; Cathal McCabe 0-1; Seán Quigley 0-1; Paddy Conneely 0-1
Referee: Cathal McAllister (Cork)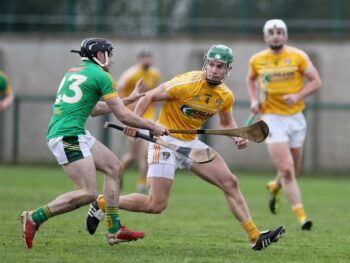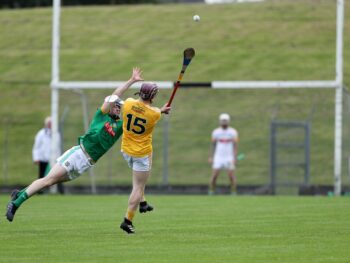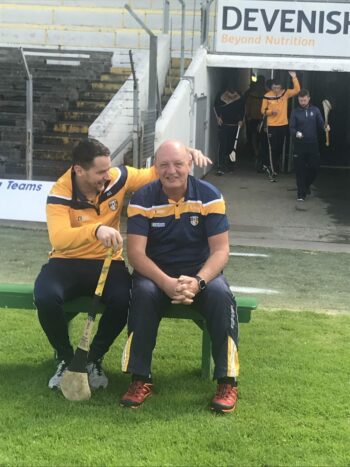 ---
Share This Story