Latest News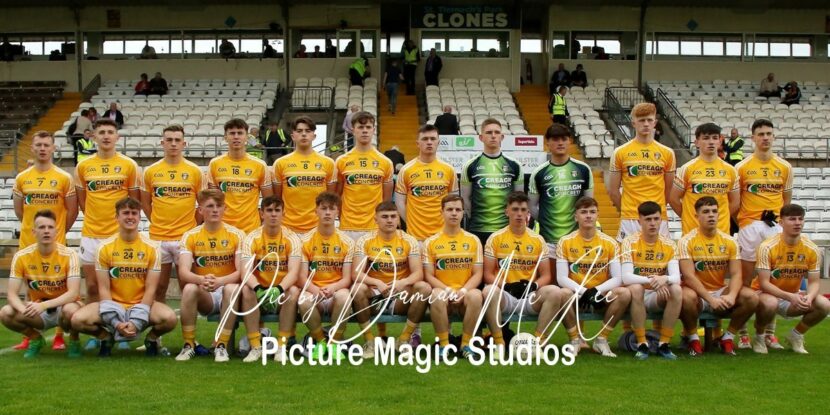 Down 1-16 Antrim 0-11
24th June 2019
Eirgrid Ulster U20 Football Championship
Down 1-16 Antrim 0-11 #TheSaffronGael
Down had just a bit too much for an understrength Antrim side in Sunday's U20 Ulster Football Championship preliminary round game which was a curtain raiser for the Donegal v Cavan senior final. With the young Saffron short a third of their team because of injury or holidays team manager Hugh McGettigan felt the task would be beyond them but the manager must have been proud of the efforts of his team on the day. With Jamie Gribben, Dominic McEnhill, Liam Quinn, Cormac McGettigan and Ethan Gibson all absent it was just too much to ask.
Down opened with a pointed free by Liam Kerr and a point from play from midfielder Rossa Carr but Antrim replied with a well taken point from defender John McCaffrey. Despite losing midfielder Liam Middleton to a black card Down pushed on to hit the next three points, one from Loughran and two from Kerr, but a pointed free from Pat Shivers kept Antrim in touch.
Antrim captain Tiernan McAteer hit a fine score to close the gap to two but it was to be the Saffrons last score of the opening and half as Down took control to pull seven clear by half time.
Things got worse for Antrim after the change of ends as the slick moving Mourne men stretched the lead to eleven as Declan McClements, Seamus Loughran, Conor Clarke and Annett all tagged on points.
Dermot McErlaine ended a scoreless spell for Antrim when they sent over a free on 43 minutes but the goal that Down had been threatening finally came
Antrims Tiernan McAteer in action against Down.
The Moneyglass clubman ended a near 25-minute scoreless spell for his side when he converted a free on 43 minutes before Down finally got the goal they had threatened all afternoon when substitute Aaron Devlin sent the ball flying to the Antrim net with a brilliant strike. To their credit Antrim never gave up the fight and the introduction of substitutes Eoin Nagle (who hadn't started because of a hamstring injury), Rory Brolly and Dominic McAteer helped lift things. Nagle hit two early points soon after his introduction while Brolly and McAteer also got on the scoresheet. Eoghan McCabe hit the final score of the game for Antrim a great long range point but Down were home and hosed by this stage with the win their talented display deserved and now go forward to meet Tyrone in next weekend's quarter final.
ANTRIM: M Byrne; M Donnelly, J Lamont, E McAteer; R Convery, E McCabe 0-1, J McCaffrey 0-1; E McMenamin, D McErlaine 0-2 (0-2fs); J Lenehan, T McAteer 0-2, D Smith; A Loughran, P Shivers 0-1 (0-1f), R Kelly.
Subs: C O'Neill for Loughran (25mins), A Mulholland for Donnelly (HT), E Nagle 0-2 for Smith (31mins), A McNeilly for Kelly (42mins), D McAteer 0-1 for Shivers (42mins), R Brolly 0-1 for McCaffrey (53mins).
DOWN: J Hazard; P Fegan, R McCrickard, A McAvoy; J McGeough, C Clarke 0-1, S Annett 0-1; R Carr 0-4 (0-2 45s), L Middleton; C Gorman, D McClements 0-1, R McCormack; C McCrickard, L Kerr 0-5 )-3fs), S Loughran 0-4 (0-1f).
Subs: A Devlin 1-0 for Middleton (Black card 5 mins), B Gallen for Annett (37mins), C O'Rawe for Gorman (42mins), D Rice for R McCormack (49mins), R McEvoy for Kerr (50mins), R Martin for Clarke (55mins).
REFEREE: C Doureen (Cavan)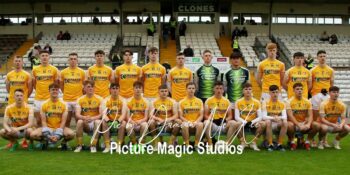 ---
Share This Story