Latest News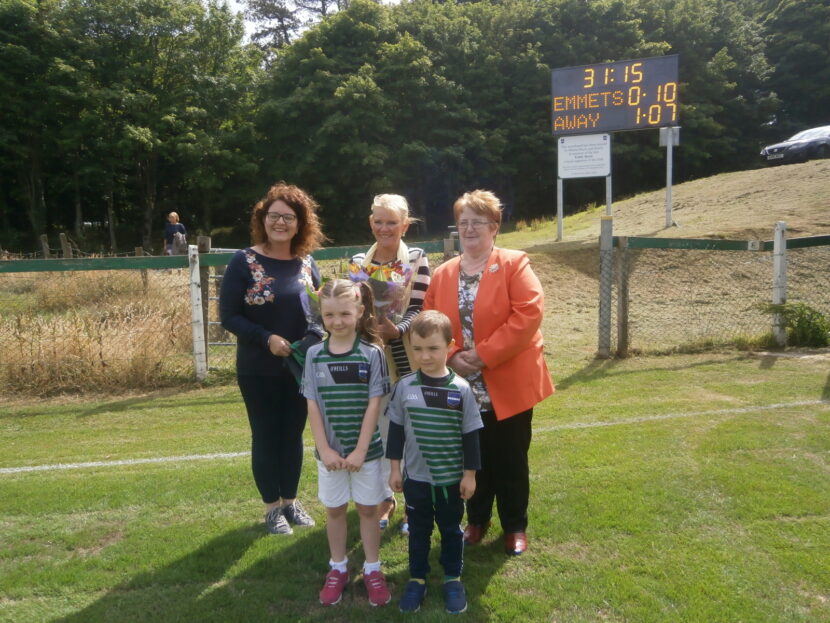 Cushendun Scoreboard
23rd July 2018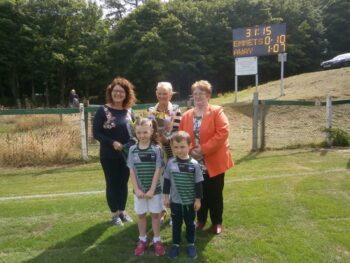 CUSHENDUN EMMET's GAC moved into the electronic age by unwrapping a spanking new state-of-the-art Scoreboard system at their seaside ground, the Rigs, Cushendun. 
Thanks to the generosity of Mrs Marian Boyle the landmark occasion to feature the Electronic Scoreboard for the first time was for the Emmet hurlers home Antrim SHL Division Three game against Glenarm on Sunday July 22. 
Before the action both teams and a large attendance of spectators respectively observed one-minute of silence to honour the host Club's great winger John McCaughan,who tragically died recently aged 38. 
The number 10 jersey was retired for the game.
The Emmet's won the all-action, high-scoring tie by 2-23 to 1-13. 
During the match interval, when the home side managed to scramble a share of the spoils, at 0-10 to Glenarm's 1-7, the Scoreboard and Plaque was unveiled. 
Emmet's official David Morgan said: "Mrs Marian Boyle donated the very expensive scoreboard on behalf of her late husband, Teddy, who was an ardent supporter of the Robert Emmet Club.
"The Scoreboard is of great benefit to the Club, and we join other North Antrim Clubs such as Ballycastle McQuillan's, Carey Faughs and Glen Rovers of Armoy who have this electronic system.
"To mark the unique occasion, Mrs Boyle was our special guest at the official ceremony, and was joined our Chairperson Helen Magee, our most dedicated Club official Pearl McQuillan, and two of Pearl's grandchildren - Elena and Ruairi McQuillan."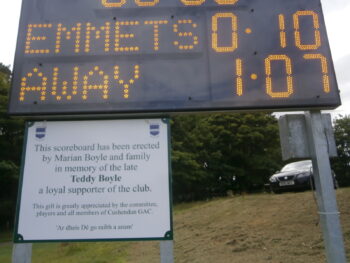 ---
Share This Story