Latest News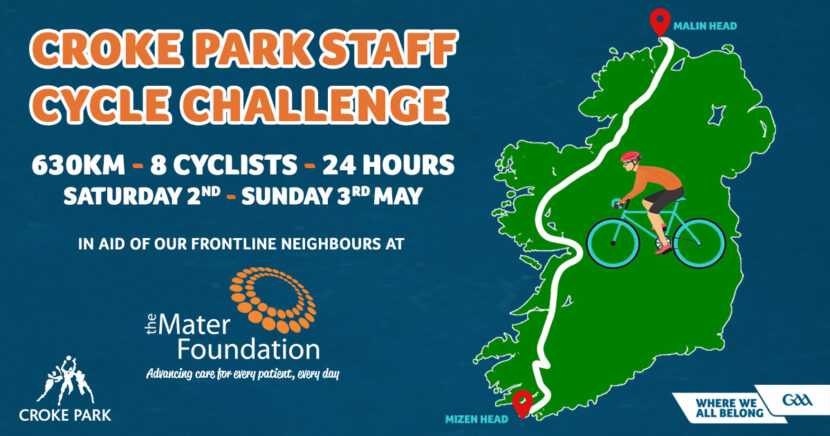 Croke Park Cycling Team to 'tackle' Malin Head to Mizen Head for the Mater Foundation
2nd May 2020
Croke Park Cycling Team to 'tackle' Malin Head to Mizen Head
for the Mater Foundation
GAA Director General to lend his support
Aibreán 27 2020
A group of Croke Park staff will undertake a 'stationary' Cycling Challenge to raise much needed funds for our frontline staff in the local Mater Hospital.
The group will attempt to cover 630km - the distance from Malin Head to Mizen Head - within 24 hours using their turbo trainers and bike computers from the safety of their own homes.
The initiative will take place on Saturday next May 2 and Sunday May 3 involving eight cyclists.
The first cyclist will 'set off' at 7.0am on Saturday for the first of three stages and there will be a changeover every hour before the final stint closes out the exercise the following morning at 7.0am.
The cyclists are being challenged to complete 26km in each of their one-hour stints.
Raising funds and awareness for our Croke Park neighbour (The Mater Foundation) is the aim of the venture, and the act of cycling at home will hopefully renew the importance of the 'Stay At Home' message that GAA has supported since the outbreak of the current pandemic.
The cycling group includes the following staff members: Alan Milton, Cian Murphy, Kevin Leahy, Kevin Sexton, David Sweeney, David Power, Paul O'Donovan and Ard Stiúrthóir Tom Ryan and they need your support to raise both awareness and support for these most worthy of causes.
WHEN?
Saturday May 2nd - Sunday May 3rd (24 hours).
WHY? To Raise much-needed funds for the Mater Foundation which will help provide equipment during these hugely challenging times.
HOW?
Eight GAA/Croke Park Staff Members will use indoor cycling trainers with bike computers and will be allotted 3 x 1 hour time slots each with the aim of achieving a total distance of 630km within 24 hours.
How can you help support this cause?
1. By giving whatever you can using the 'Give Now' button via the below link.
2. The more people that know about The Mater Foundation, the greater their impact, so please also spread the word by sharing the below link with your friends and family.
3. Please interact with the event on social media via the Croke Park and GAA channels (Twitter, Facebook, Instagram etc.).
https://give.everydayhero.com/...
Thank you in advance for your support and generosity
and join us on the 'cycle' via social media!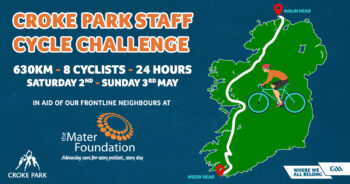 ---
Share This Story