Latest News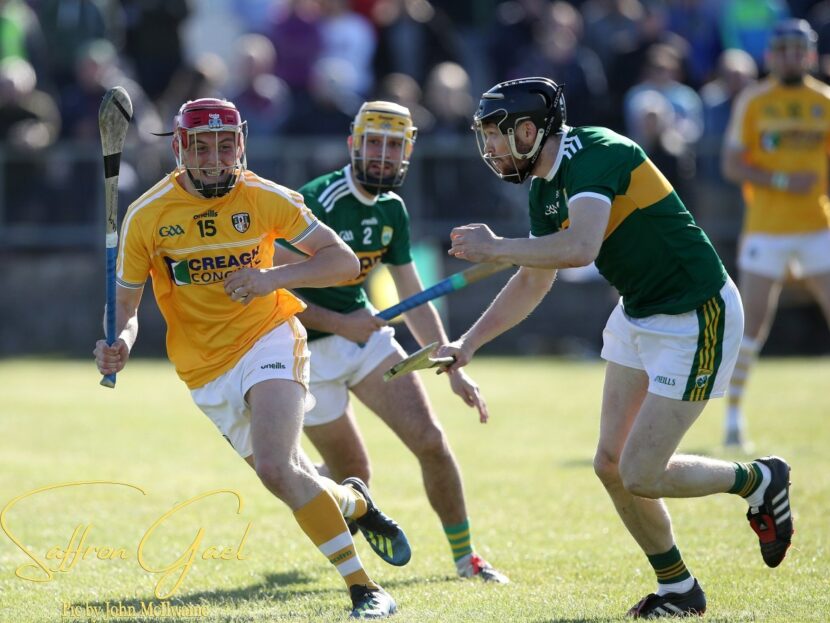 Antrim 3-19 Kerry 0-14 #JoeMcDonaghCup
12th May 2019
Brendan McTaggart reports from Pearse Park, Dunloy
Antrim dedicate win to late great Seany Burns who died this week
To say it was expected may be pushing the margins fantasy, for even the most ardent and blinkered Saffron fan. But to say it was deserved, no one could argue. Antrim got their Joe McDonagh Cup campaign off to the best start possible on a sunny but cold Pearse Park as they despatched the challenge of Kerry with 14 points to spare.
A comfortable margin of victory and every inch as comfortable as it sounds. Despite leading by just a single score at the interval, Antrim pushed on in the second half and out fought, out manoeuvred and out hurled a side who have caused them problems beyond belief in the past.
Kerry came to Dunloy as favourites but they were left chasing Saffron shadows for the majority of the match. In our preview, Antrim manager Neal Peden told of his belief in the Antrim forward unit. Some may have thought it as some psychology but Peden couldn't have been more correct if he tried. Out of their tally of 3-19, just six points came from placed ball while Antrim had 13 different names on the scoresheet.
13.
Antrim's Phelim Duffin in action against Kerry's Jack Goulding. Pic by Paddy McIlwaine

Unlucky for some. Kerry yes but most certainly not Antrim. The Saffrons may have taken some time to hit their straps, in a scrappy first half where Kerry played with the substantial wind, the visitors to Pearse Park played very negatively. Packing their own defence and leaving Jack Goulding as a lone target man. At one stage in the opening 35 minutes there wasn't a Kerry man within 45 yards of Goulding. The Munster men looked to play short passes around their own half back line and midfield, trying to manoeuvre the Antrim defence but the Saffrons were a step ahead. Ryan Elliott's goal never looked threatened and but for the brilliance of Shane Conway from placed ball, it could have been an even more comfortable win for Antrim.
The Antrim forwards will take the plaudits but there's no doubt the platform for the victory came from their defence. Stephen Rooney impeccable, Conor Boyd imperious while his McQuillan's clubmate Mattie Donnelly was a major contender for man of the match. A strong performance throughout but Donnelly excelled in the second half and rarely put a foot wrong.
Kerry's Michael O'Leary flies high win the ball in a challenge with Antrim's Matthew Donnelly and Joe Maskey.

Antrim had to wait until the eighth minute before registering their first score of the match, Eoin O'Neill finishing a well worked move from wide on the left. The visitors had already raced into a three point lead by that stage with Conway's frees (two) and Michael O'Leary putting them into a good position after the opening exchanges.
The sides went tit for tat with James McNaughton (two frees), Ryan McCambridge, Keelan Molloy and Conor McCann getting their names on the scoresheet with Conway (two frees), Colum Harty and O'Leary keeping the Kingdom ahead before Antrim scored the opening goal of the game. Nicky McKeague delivering a sideline ball into the direction of McNaughton. The Loughgiel man collected among the crowd and passed to Ciaran Clarke. The Ballycastle man raced clear and managed to fire the sliotar to the back of the net to give Antrim the lead for the first time in the match in the 32nd minute.
Both sides had been guilty of missing chances in the time before Clarke's major. Kerry reaching double figures (10) with their wide count while Antrim didn't fare much better, returning eight in the same time frame but Clarke's major gave the home side a lift for the remainder of the half. A brace of Conway frees were answered to by O'Neill's second white flag of the half, a superb score from wide on the right and with the angle against him, the Dunloy man had the last say of the half as Antrim took a one point lead into the interval.
Antrim 1-7 Kerry 0-9
The Saffrons would have been content with their efforts in that first period. They weren't exactly firing on all cylinders but they deserved to hold some sort of lead at the short whistle. They took some time to come to terms with the negative tactics of Kerry and against the wind but they cut loose in the second half.
Tomas O'Connor and Conway (free) fired over either side of Conor McCann's second point of the afternoon. Antrim began to turn the screw however and the Kingdom were wilting under the Saffron pressure. Paddy Burke left his half back berth to fire over before the home side hit their second major of the half. Conor Boyd breaking free from the defence before passing to McKeague. The Dunloy man launched the sliotar high into the heart of the Kerry defence but it took an awkward bounce in front of Martin Stackpoole. In the Kerry goal and bounced over his shoulder and high into the net.
Antrim's Neill McManus in aciton against Kerry's Tómas O'Connor.

A brace of points from McManus frees continued the Saffron charge and while Conway landed his eighth free of the match, it was a brief respite for the visitors as Antrim piled on the scores. Clarke and Molloy firing over to open a seven point gap with 15 minutes remaining.
The frustration of the Kingdom was plain to see and their fate was effectively sealed in the 57th minute when John Buckley saw red for a dangerous foul on Donnelly. Antrim took advantage of the open spaces as Kerry opened up in an attempt to get back into the game. McManus landed his second monster free before substitute Nigel Elliott scored their third goal of the contest. The Dunloy man collected the ball 50 yards from goal and rode a couple of heavy challenges using his pace and power to get him clear before finding the bottom corner with seven minutes remaining.
Substitute David Kearney added his name to the scoresheet before a brace of frees from Conway brought Kerry to with 10 points of Antrim with four minutes of normal time remaining. Antrim kept their grip on the game and finished with points from the impressive Molloy, McManus' fourth free of the match and white flags for substitutes Joe Maskey and Kevin Rice. Icing and cherry added to the Saffron cake at the end of a second half where everything they touched turned to gold.
The perfect start and the dream starts once again. A trip to Laois lies ahead for Neal Peden's charges but the hope and dreams can start once again. After the game the Saffrons manager dedicated the win to his friend and mentor Seany Burns who passed away during the week, a fitting tribute for a Saffron legend. For now, all roads to Portlaoise in seven days' time.
TEAMS
Antrim: Ryan Elliott; Stephen Rooney, John Dillon, Phelim Duffin; Paddy Burke, Conor Boyd, Matthew Dillon; Neil McManus, Nicky McKeague; James McNaughton, Ryan McCambridge, Keelan Molloy; Ciaran Clarke, Conor McCann, Eoin O'Neill.
Subs: Nigel Elliott for J McNaughton (48); David Kearney for N McKeague (61); Joe Maskey for E O'Neill (61); Dan McCloskey for C Clarke (67); Kevin Rice for C McCann (68)
Scorers: Neil McManus 0-4 (4 f's); Ciaran Clarke 1-1; Nicky McKeague 1-00; Nigel Elliott 1-00; Keelan Molloy 0-3; James McNaughton 0-2 (2 f's); Conor McCann 0-2; Eoin O'Neill 0-2; Ryan McCambridge 0-1; Paddy Burke 0-1; David Kearney 0-1; Joe Maskey 0-1; Kevin Rice 0-1.
Kerry: Martin Stackpoole; John Buckley, James O'Connor, Evan Murphy; Sean Weir, Bryan Murphy, Tomas O'Connor; Colum Harty, Jack Goulding; Shane Conway, Michael O'Leary, Jordan Conway; Dan Goggin, Michael Boyle, Padraig Boyle.
Subs: Michael Slattery for O Boyle (50); Patrick Kelly for C Harty (59); Daniel Carroll for J Conway (63); Gavin Dooley for J Goulding (65)
Scorers: Shane Conway 0-10 (10 f's); Michael O'Leary 0-2; Colum Harty 0-1; Tomas O'Connor 0-1.
Referee: Liam Gordon (Galway)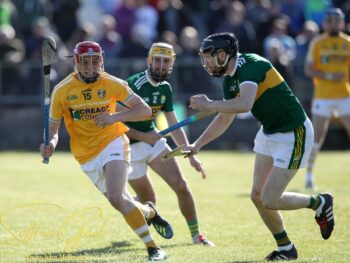 ---
Share This Story