Latest News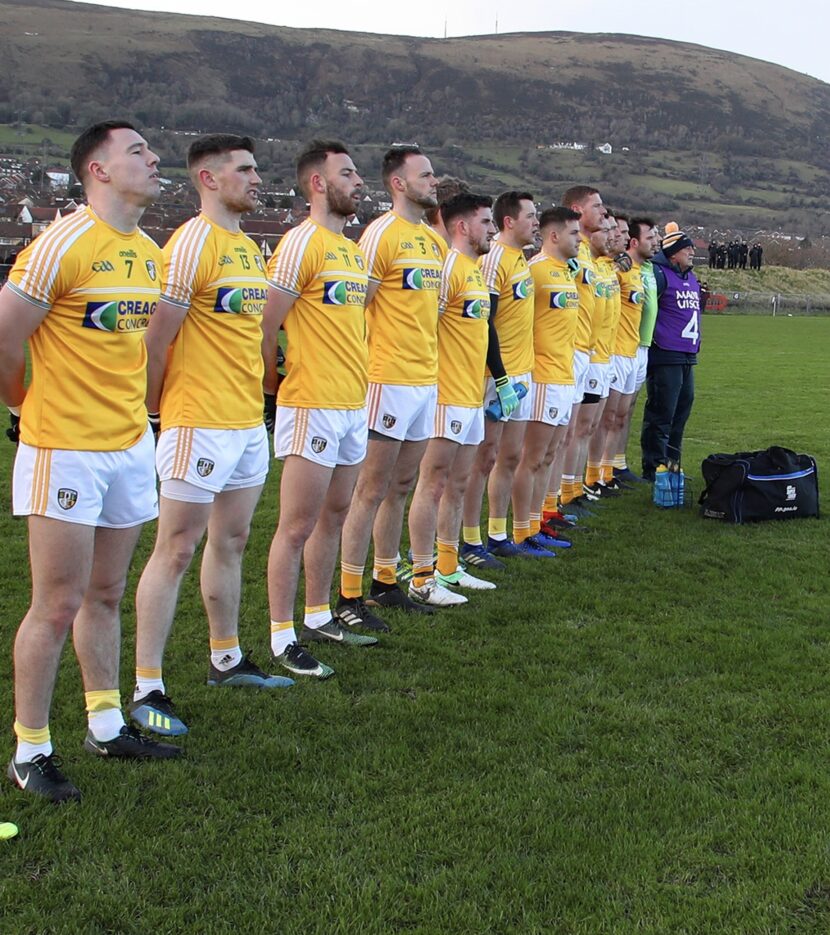 Antrim 2-9 Tyrone 2-23
27th May 2019
Antrim 2-9 Tyrone 2-23
Saturday May 25
Brendan McTaggart reports from The Athletic Grounds, Armagh
35 minutes of relentless pressure, high intensity and class paved the way for Tyrone's dismantling of Antrim on Saturday night. The Red Hands had 14 points to spare over the Saffrons by the end of the 70 minutes with Antrim putting in an improved second half performance but in truth this Ulster Championship quarter-final was over by the half time whistle.
Second half goals from Paddy McCormick and Matt Fitzpatrick gave the travelling Antrim support something to shout about in the second half but Tyrone proved to be a class above the Saffrons. Ryan Murray top scored for Lenny Harbinsons men, the Lámh Dhearg man finishing the match with 0-6, five from placed ball while Mickey Harte's men finished with an impressive tally of 14 different scorers. Tiernan McCann and substitute Connor McAliskey grabbing the goals in either half while Cathal McShane, Richie and Mattie Donnelly were constantly a threat.
Tyrone pushed up on Padraig Nugent's kick outs in the first half, the St John's man was under huge pressure from the word go and was forced to go long on all but two occasions in the opening 35 minutes. The Tyrone midfield and work rate tenacity at the breakdown allowed them to keep Antrim hemmed in their own half for the majority of the first half. The Saffrons did show moments of fleeting attacking threat, McBride unlucky to be felled when through on goal while Fitzpatrick and Murray were lively but Tyrone never gave Antrim the time and space they needed to mount any sustained pressure. It was an accomplished and polished half that allowed Tyrone to control the game after the restart and as Mickey Harte alluded to in his post-match interview: "We had a foot and a half in the semi-final by half time."
Stephen Beatty attempts to set up an Antrim attack
The Saffrons first point of the match came in the third minute, James McAuley splitting the posts from the right hand side to tie the scores after Mattie Donnelly's early score. McBride scored Antrim's first free of the match in the 12th minute but Tyrone had opened up a three point lead by that stage with Cathal McShane, Peter Harte and Mattie Donnelly once again finding the target.
The Red Hands were beginning to show the movement and pace required to cut through the Antrim defence and had opened the deficit to six points by the 22nd minute. McShane, Frank Burns, Rory Brennan and Richie Donnelly with the scores before Antrim had the first goal opportunity of the quarter-final. McBride with the incisive run through the Tyrone defence before being felled by Ben McDonnell. Referee Maurice Deegan deemed the foul was outside the box in what was an extremely close call before ending McDonnell's match with a black card. Ryan Murray converted the free only for Mattie Donnelly to reply instantly at the other end.
Tyrone clearly had a ploy to restart the game as soon as possible, making it difficult for Antrim to set up at the kick outs. Morgan hit the majority of his restarts short and Tyrone attacked in numbers, at pace and from deep to make life more than difficult for the Saffrons.
Antrim's Matt Fitzpatrick comes under pressure from Ben McDonnell and Tiernan McCann
The lead was seven points by the 28th minute when Tyrone scored the opening goal of the tie. Peter Harte with the guile, pace and trickery to create the space before passing to Tiernan McCann and the Tyrone half back made no mistake with an unstoppable finish, giving Nugent no chance in the Antrim goals.
A Murray brace (one free) either side of Cathal McShane's fourth of the half left Antrim trailing by nine with four minutes of the first half remaining but Tyrone continued to dominate. Niall Sludden's 33rdminute point meant all six starting forwards had now scored for Tyrone while Richie and Mattie Donnelly, Niall Morgan ('45) and McShane ensured Tyrone were on easy street for the second half.
Half time: Antrim 0-5 Tyrone 1-16
The Tyrone pressure was relentless and unyielding for the first half. The high intensity wasn't there for the Red Hands in second half but they still oozed class throughout. They began to unload their bench, bringing on more talent for precious championship playing time while Antrim looked for any crumbs of comfort on a tough evenings work.
Tyrone had stretched their lead to 15 points by 48th minute before the Saffrons scored their first goal. Moneyglass man McCormick finishing off a move created by Fitzpatrick and giving the Saffrons support a reason to find their voices.
Patrick McCormick scores Antrim's opening goal
Antrim were finding more room around midfield with Fitzpatrick, McBride and latter Paddy Gallagher all enjoying more freedom to create pressure on the Tyrone defence but Mickey Harte's men were making use of the spaces left in the Antrim defence with Richie Donnelly and substitutes Darren McCurry and Connor McAliskey answering Murray's third free of the match to leave 14 between the sides once again.
The Antrim fans had reason to cheer once again in the 57th minute when Fitzpatrick scored their second goal. McBride the architect with a typically incisive run to create the space and while his St John's clubmate still had plenty to do, his finish was of the high quality we have come to expect from Fitzpatrick. Accurate and low to the bottom right hand corner to beat the best efforts of Niall Morgan in the Tyrone goals. The Saffrons had another chance moments later, McBride with another surging run to force a chance only to be denied by a superb block by Ronan McNamee.
Matt Fitzpatrick scores Antrim's second goal
To compound Antrim's misery with McNamee's block, Tyrone scored their second goal with the next attack. Richie Donnelly with a perfectly flighted ball to the edge of the Antrim square where McAliseky rose highest, claiming the ball and blasting to the back of Nugent's net from point blank range.
Antrim continued to attack with a brace of Murray frees giving the Lámh Dhearg ace 0-6 for his efforts but McAliskey (free) and fellow substitute Kyle Coney had the final say to ease the Red Hands into a semi-final meeting with either Fermanagh or Donegal in two week's time.
Antrim now face the qualifiers on the same weekend and with a mounting injury list after Saturday's match and potential matches with Mayo, Down, Louth and Derry ahead, there's plenty to give Lenny Harbinson sleepless nights. But if the Saffron management take anything from this match, they should note how their side showed glimpses of high quality. They couldn't sustain that and keep the pressure required to make Tyrone think but that will come with continued hard work, continuity in panel selection and most importantly promotion through the league and playing at a higher level.
As it is, the wait for another Ulster Championship win since 2014 continues.
TEAMS
Antrim: Padraig Nugent; Patrick McCormick, Ricky Johnston, Patrick Gallagher; Patrick McBride, Declan Lynch, Niall Delargy; Colum Duffin, Stephen Beatty; James McAuley, Matthew Fitzpatrick, Kevin Quinn; Ryan Murray, James Smith, Odhran Eastwood.
Subs: Ryan McNulty for J Smith (HT); Eunan Walsh for O Eastwood (45); Ruairi Scott for K Quinn (52); Michael McCarry for S Beatty (55); Jay Mallon for J McAuley (62); Conor Mallon for E Walsh (70)
Scorers: Ryan Murray 0-6 (5 f's); Matthew Fitzpatrick 1-00; Patrick McCormick 1-00; Patrick McBride 0-2 (2 f's); James McAuley 0-1
Tyrone: Niall Morgan; Hugh Pat McGeary, Ronan McNamee, Rory Brennan; Tiernan McCann, Pádraig Hampsey, Michael Cassidy; Colm Cavanagh, Ben McDonnell; Matthew Donnelly, Niall Sludden, Frank Burns; Cathal McShane, Peter Harte, Richard Donnelly.
Subs: Conan Grugan for McDonnell (black card – 23); Aidan McCrory for P Hampsey (HT); Kyle Coney M Donnelly (42); Darren McCurry for C McShane (42); Connor McAliskey for P Harte (42); Conall McCann for N Sludden (54)
Scorers: Cathal McShane 0-6 (3 f's); Connor McAliskey 1-2 (1 f); Matthew Donnelly 0-3; Richie Donnelly 0-3; Tiernan McCann 1-00; Peter Harte 0-1 (1 f); Niall Sludden 0-1; Frank Burns 0-1; Michael Cassidy 0-1; Rory Brennan 0-1; Ronan McNamee 0-1; Niall Morgan 0-1 (1 '45); Kyle Coney 0-1; Darren McCurry 0-1
Referee: Maurice Deegan (Laois)
Attendance: 5409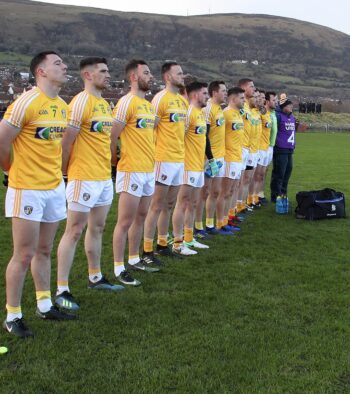 ---
Share This Story