Latest News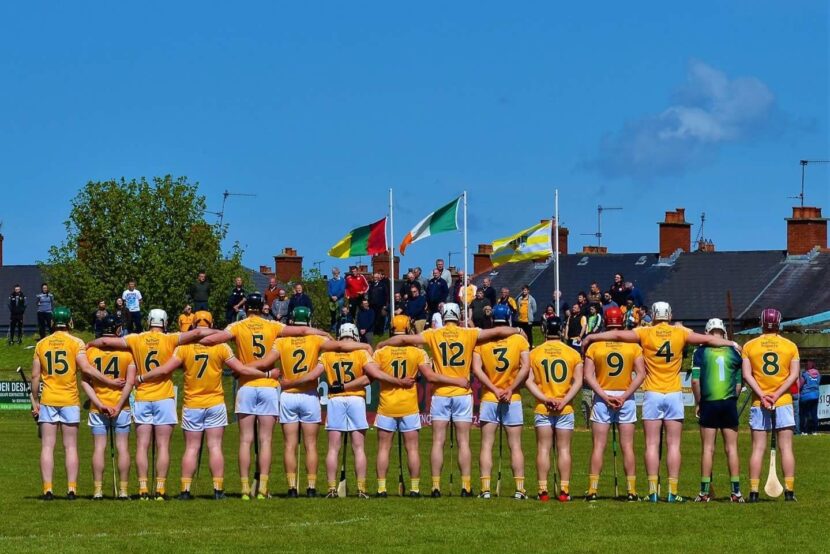 Antrim 2-16 Carlow 0-19 #JoeMcDonaghCup
14th May 2018
Joe McDonagh Cup – Round Two – Saturday May 12
Antrim 2-16 Carlow 0-19
Brendan McTaggart reports from Corrigan Park
Four red cards, a 50 minute second half, off the ball incidents, but one winner.  Championship hurling – you couldn't beat it.  At one stage under the burning sun in west Belfast, it looked like we were heading for the Calamity in Corrigan with the game stopped for close to five minutes for referee John O'Brien to deal with numerous incidents, but by the end of normal time, all 85 minutes of it, it's Antrim who took the spoils in the Battle of Whiterock.  You will go far to see a championship game that will provide more twists and turns from start to finish – a hugely an enthralling and action packed contest.  Carlow looked to have Antrim on the ropes at the start of a marathon second half but the Saffrons produced more moments of brilliant hurling throughout that proved to be decisive.
They didn't quite hit the heights of Páirc Tailteann last Saturday, it was never going to be.  Carlow are a physically imposing side and came to Corrigan Park wanting to bully the Saffrons.  They came with a game plan of dragging the game into the trenches and rucks, stop Antrim from finding the fluent brilliance from seven days ago and go from there.  After the Christy Ring final, Carlow manager Colm Bonner said to the Antrim management that they would have swapped their success in Croke Park that day for the promotion Antrim gained as it would stand the by the Saffrons better in the long run.  We didn't have too far to see just how much it has helped.  Two points in the end as Antrim held their nerve, composure and discipline while the Barrowsiders crumbled.
These two sides have developed a rivalry over recent years with apart from Croke Park last June, there never being more than a poc of the ball between them.  Even with two men extra and six points ahead going into the last five minutes of injury time, Antrim were left clinging on but in the end it's the old championship cliché proves right again – goals win games and thankfully Antrim bagged two of them.  Nigel Elliott the man to score and provide in two moments of sheer brilliance that lit up this McDonagh Cup encounter.  His first was almost a carbon copy of his opening goal against Meath – a drop of the shoulder and a burst of pace so devastating it brought the crowd to life and a finish with finesse to give Brian Tracey no chance after just three minutes.
Antrim dominating the early stages as Carlow tried to come to terms with playing into the breeze.  Every ball in attack for the Barrowsiders was directed towards James Doyle as they looked for the brilliant forward to repeat his antics from their last meeting but the Saffrons Captain Conor McKinley was keeping him at bay.  His tussle with Doyle in the opening quarter was a sub plot to an already intense yet enthralling championship game of hurling.  Antrim held a six point lead in the 28th minute when Doyle gave Woody the slip for the first time in the match.  Eoghan Campbell came across to cover but his challenge was deemed as overzealous and dangerous.  Red card for the Ruairi Og man, two in as many games against the Barrowsiders.
Until that point Carlow had only hit three points, in the time that remained they hit four to Antrim's two with Denis and Dairmuid Byrne impressing.  Antrim were rocked and Carlow were upping the tempo.  Half time couldn't come quick enough for the Saffrons as they held a five point lead at the short whistle.
Antrim's goal scoring heroes Nigel Elliott (left) and Neil McManus. Pics by Dylan McIlwaine
It didn't feel like it would be enough.  Five points is nothing and to defend it with a man less against quality opposition was going to be a huge ask.  Throw in the wind factor and Antrim were looking for a minor miracle.  What they got was chaos.  Murphy reduced the Antrim lead to four shortly after the restart and as Antrim began to find a game plan that would give them the edge, Carlow lost the plot.  Two men in red, gold and green had Simon McCrory down in the middle of the pitch and referee O'Brien played on.  A foul on Doyle stopped play but that ended up being over turned after consultation with his two linesmen and one pair of umpires.  Both sets of management were infuriated but confused and bewildered.  Finally after near five minutes, Carlow lost midfielder Jack Kavanagh.  14 aside and game on as far as Antrim were concerned.  Call it intervention or luck, it was the break Antrim needed and deserved.  There was still a game to be won and now they had the armoury to do it.  Carlow got to within two points by the 53rd minute when Elliott produced another moment of magic.  Rising highest among a swarm of Carlow defenders, the Dunloy man went on another run down the left leaving a trail of Carlow defenders in his wake.  He had three trying to stop him but he managed to play the sliotar across the field to McManus who swung first time to the back of the net.  Boom.  It felt like a defining moment in this titanic tussle after 54 minutes but the hammer blow came just five minutes later.  A second red card for the visitors, with Diarmuid Byrne seeing red for a dangerous tackle on McCrory.
Two frees from McManus were answered by a Chris Nolan point to give Antrim a five point lead with 10 minutes of normal time remaining but that would turn out to be 25 minutes as yet again the game was stopped with an off the ball incident and another red card.  Richard Coady receiving his marching orders for a strike on McManus that would end the talismanic Saffrons game.
As substitute Eddie McCloskey fired over with his first touch of the game, Antrim held a six point lead as we entered injury time.  11 minutes.  Or to be more exact, at least 11 minutes.  This game wasn't over yet.  McCrory was dropping deep with Paddy Burke sweeping as Antrim tried to nullify the threat of Denis Murphy and Doyle.  There was one last throw of the dice from the Barrowisders in the fifth minute of time added on when Doyle bore down on Ryan Elliott's goal having give Woody and McCrory the slip.  A viscous strike rippled the netting but on the wrong side of the post.  A collective sigh of relief was audible across Corrigan as Carlow laid siege on the Saffrons defence.  Time ran out though as Antrim held on to record a second win against opposition who have caused them heartbreak in the recent past.  Another ghost exorcised and now they have a score to settle this Saturday with Laois.  They do say these things happen in three's…
TEAMS
Antrim: Ryan Elliott; Stephen Rooney, John Dillon, Conor McKinley; Joe Maskey, Paddy Burke, Ryan McCambridge; Eoghan Campbell, Simon McCrory; Nigel Elliott, Conor Johnston, Neil McManus; Donal McKinley, Michael Armstrong, Conor McCann
Subs: James McNaughton for D McKinley (46); Eddie McCloskey for C McCann (59); David Kearney for J Maskey (60); Neal McAuley for R McCambridge (inj); Conor Carson for M Armstrong (inj)
Carlow: Brian Tracey; Alan Corcoan, Paul Doyle, Michael Doyle; Richard Coady, David English, Dairmuid Byrne; Jack Kavanagh, Kevin McDonald; John-Michael Nolan, Paul Coady, Edward Byrne; James Doyle, Denis Murphy, Ross Smither
Subs: Chris Nolan for R Smithers (46); Dion Wall for M Doyle (62); Jack Murphy for E Byrne (67); Conor Foley for P Coady (inj); Seamus Murphy for D Murphy (inj)
Scorers for Antrim: Neil McManus 1-8 (7f); Nigel Elliott 1-2; Conor Johnston 0-2 (1f); Michael Armstrong 0-1; Joe Maskey 0-1; Eoghan Campbell 0-1; Eddie McCloskey 0-1
Scorers for Carlow: Denis Murphy 0-11 (7f); James Doyle 0-2; John-Michael Nolan 0-2; Chris Nolan 0-2; Conor Foley 0-2
Referee: John O'Brien (Laois)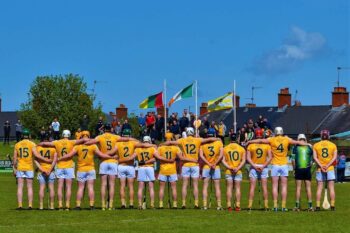 ---
Share This Story