Latest News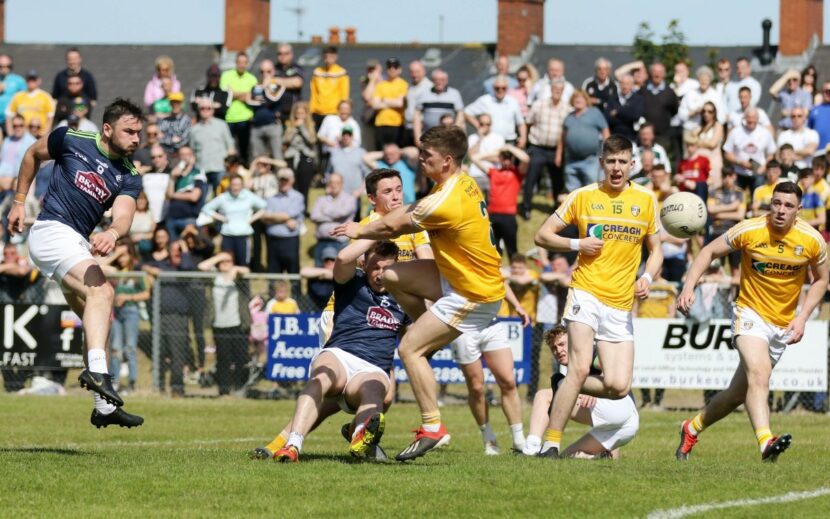 Antrim 0-14 Kildare 1-25
24th June 2019
All-Ireland Football Qualifiers Round Two
Antrim 0-14 Kildare 1-25
By Kevin Herron at Corrigan Park #TheSaffronGael
Antrim bowed out of the Football Championship this afternoon after a 1-25-0-14 defeat by Kildare at Corrigan Park.
In truth the Lilywhites in navy were too good for the Saffrons and kicked on after a tight opening quarter on the Whiterock Road.
Leading 0-13-0-06 at the break it was Kildare who claimed the games only goal through Fergal Conway early in the second-half and from there on the Leinster side didn't look back and comfortably saw out the contest to take their place in the last 16 of the championship next week-end.
Antrim boss Lenny Harbinson made two changes from the side that defeated Louth two weeks previous – in came Martin Johnston and Conor Murray for Michael McCarry and Eunan Walsh respectively.
Kildare made the early runnings on a warm blistering day on the Whiterock Road as Neil Flynn converted an early free within the first two minutes.
Conor Murray, Antrim is stopped in his tracks by Mark Dempsey, Kildare
Matt Fitzpatrick shot wide with the Saffrons first attack of the afternoon, sixty seconds later and the Lilywhites punished the hosts as Adam Tyrrell played a one—two with Kevin Feely and shot over, the corner-forward doubled his tally and made it 0-03-0-00 courtesy of a free.
It took Antrim nine minutes to land their opening point – Kevin Quinn's shot appeared to be dropping short, only for Stephen Beatty to fist the ball over.
The Saffrons second arrived shortly after as Martin Johnston got a hand in to stop a promising Kildare venture forward; Conor Murray took up the reins and popped it into Patrick McBride who conjured the score.
The sides then traded points through Mick O'Grady and James McAuley before Kildare strode clear for the next quarter of the game.
The Lilywhites landed seven unanswered points – the first of which was a second converted Neil Flynn free.
Fellow corner-forward Adam Tyrrell then landed his third score of the afternoon with Flynn matching his tally with his first from play to make it 0-07-0-03 after twenty minutes.
Kildare keeper, Mark Donnellan comes out to deny Ryan Murray as the ball breaks to Eoin Doyle
Kildare had two goal chances within two minutes – Fergal Conway's pass dropped into the hands of Jimmy Hyland who had a sighting of goal but shot high and wide; while Keith Cribbin turned Patrick Gallagher inside out – though the defender recovered to make a vital block.
In between those chances Kevin Feely kicked a fine point – a double from Neil Flynn and a point from Tyrrell ensured that Kildare were very much in control.
Without a score in almost fourteen minutes the Saffrons almost responded with Patrick McBride attempting to square the ball across the face of the visitors goal, only for Mark Donnellan to close down the angle.
Antrim kicked their first score since the 13th minute on the half hour mark as Ryan Murray converted a free awarded for a foul on older brother Conor.
Murray then linked up with Patrick McBride and the St Johns native landed a super point in familiar surroundings.
The Lamh Dhearg forward landed his sides third consecutive point as the Saffrons comeback gathered momentum – though Jimmy Hyland's shot sailed over the bar and Neil Flynn's sixth point of the half gave his side a seven-point cushion at the interval (0-13-0-06).
Ben McCormack, Kildare is challenged by Antrims James McAuley
Antrim needed a fast start to the second period but the opening exchanges saw both teams pretty well matched.
Matt Fitzpatrick popped the ball over the top to claim his first of the afternoon but Jimmy Hyland responded after a patient passing move from the visitors.
Conor Murray then produced a splendid point from the outside of the boot after great link-up with Fitzpatrick; although Neil Flynn brought his tally to 0-07 with his fourth point from play.
Antrim's short kick-out strategy was breaking down and on the 41st minute Kildare claimed the only goal of the game.
Fergal Conway closed down the kick-out and switched possession and the midfielder would be the recipient of a popped pass from Ben McCormick and rifled to the roof of the net past Padraig Nugent to give Kildare a 1-15-0-08 lead.
Conor Murray's side pass to Patrick McBride resulted in the Saffrons third score and from the narrowest of angles.
Having hit seven unanswered points in the first-half; Kildare almost replicated it in the second, but fell one short.
Adam Tyrrell converted his third free of the afternoon and Ben McCormick combined with Neil Flynn.
Kildare goal scorer, fergal Conway has his shot charged down by Declan Lynch
Tyrrell and midfielder Fergal Conway would both claim doubles and with little under twenty minutes remaining Kildare held a 1-21-0-09 lead.
Patrick McBride was often the Saffrons go-to-man and kicked his third point on the 53rd minute. Kildare had arguably taken their foot of the gas but stretched their lead through Jason Gibbons.
McBride was full of confidence for Antrim and confidently shot over the bar to keep the scoreboard ticking.
St Johns team-mate Fitzpatrick ably assisted McBride's final score of the afternoon after a neat interchange with Matt then claiming a point of his own – despite a goal chance perhaps opening up.
First-half substitute Jimmy Hyland claimed his third point of the afternoon late-on and midfielder Kevin Feely his second.
Both sides were on target in injury-time with Matt Fitzpatrick claiming his third point of the half and substitute Tommy Moolick completing a comfortable 1-25-0-14 win for Kildare who secure their place in the Round Three qualifying draw on Monday morning.
Antrim: P Nugent, P McCormick, R Johnston, P Gallagher, D Lynch, M Johnston, N Delargy, C Duffin, K Quinn, J McAuley (0-01), M Fitzpatrick (0-03), S Beatty (0-01), R Murray (0-02, 0-01f), P McBride (0-06), C Murray (0-01). Subs: E Walsh for M Johnston (35 mins), R Scott for S Beatty (35 mins), R McNulty for K Quinn (48 mins), J Smith for R Murray (54 mins), M McCarry for C Murray (60 mins), F Burke for N Delargy (64 mins).
Kildare: M Donnellan, M Dempsey, M O'Grady (0-01), P Kelly, C O'Donoghue, E Doyle, D Hyland, K Feely (0-02), F Conway (1-02), D Slattery, C Healy, K Cribbin, A Tyrrell (0-07, 0-03f), B McCormack, N Flynn (0-08, 0-03f). Subs: J Hyland (0-03) for C Healy (13 mins – black card sub), T Moolick (0-01) for K Cribbin (35 mins), M Hyland for C O'Donoghue (41 mins), E O'Flaherty for D Slattery (43 mins), C Hartley for P Kelly (55 mins), J Gibbons (0-01) for A Tyrrell (57 mins).
Referee: Noel Mooney (Cavan)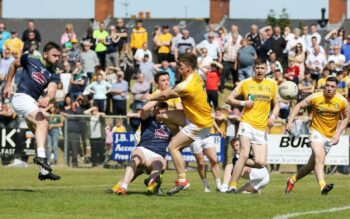 ---
Share This Story