Latest News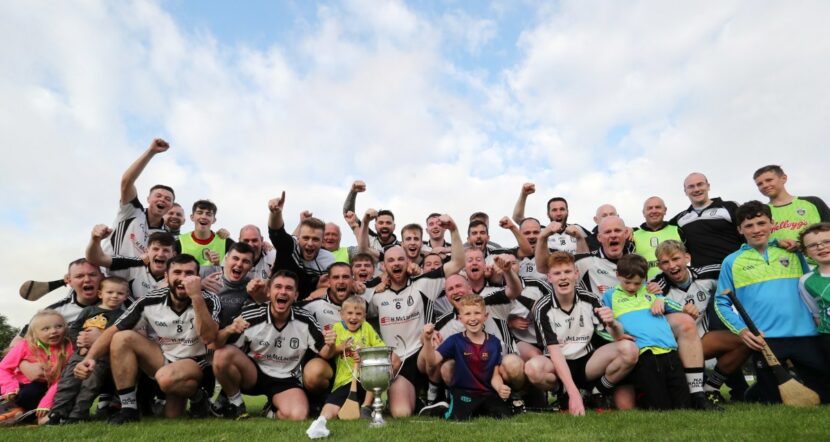 All Saints Junior B Hurling Champions
13th August 2018
Antrim Junior B Hurling Championship final
All Saints 2-25 St Agnes's 0-5
All Saints hurlers won the club's first ever All County Hurling championship title at Cloughmills on Sunday evening when they had just too much class and scoring power for hard working St Agnes in the Junior B final. Leading by 0-12 to 0-3 at half time the Ballymena boys were equally as dominant in the second half and two goals from Liam Cassley helped them to an emphatic win.
In perfect conditions for hurling Ciaran Neeson gave All Saints the lead in the opening minute when he pointed a long range free. St Agnes then missed a great chance to get level, or even go in front when a clever pass from Kevin Grieve from the right wing sent Sean McIlhatton clear in front of goal but the left half forward lost control of the ball when running in on goal and elected to kick it, which give the All Saints keeper and easy save. All Saints came back with three points on the trot from Niall McGarry, Ryan McGarry and Gary Miskella and were four ahead before midfielder Conor Pelan opened St Agnes' account on eight minutes with a fine strike from 60 meters.
However by the time the Aggies had raised their next flag All Saints had all but wrapped up the win as they hit eight points without reply between the 12th and the 29th minutes. The excellent Liam Cassley started the run with a well taken point from 50 meters before corner forward Padhraig McGill added on from the right corner. Cassley struck again on 14 minutes before top scorer Ciaran Neeson hit five on the trot, four of them from frees and one from a 65. Kevin Greeve and Conor Pelan pulled two back for the Aggies in first half injury time but there was still time for one more from All Saints as Gary Miskella fired one over in the 33rd minute to put his team 0-12 to 0-3 ahead at the short whistle.
Man of the match Ryan McGarry breaks through a St Agnes tackle.
Just as he had done in the first half Ciaran Neeson added a point from a free within thirty seconds. Three from right half forward Damian Gillan and one more from the accurate Neeson stretched the All Saints lead to fourteen before St Agnes full forward Kevin Greeve pulled one back with an excellent finish from 40 meters on the right. Neeson added another to his personal tally with a point from a 65 on forty minutes before the Ballymena side got their first goal, a somewhat fortunate one it has to be said as Liam Cassley's shot for a point was deflected down into his own net by the luckless Aggies goalkeeper Christopher Fay. Conor Pelan got St Agnes final score on 49 minutes but All Saints kept piling on the agony as Cassley got his second goal, this time with an excellent finish. Seven more points were to follow for the Saints, three of them from man of the match Ryan McGarry, who was excellent throughout to seal a comprehensive win and get the celebrations underway.
Ryan McGarry won the Saffron Gael Man of the Match award after a commaning display at half back for the Ballymena men, scoring three excellent points into the bargain. His All Saints team mates Ciaran Neeson, who top scored on 10 points and midfielder Ryan Cassley, who scored 2-2, pushed him very close for the honour but McGarry deserved his award for a great all rounds display.
All Saints scorers
Ciaran Neeson 0-10 (8 frees and 2 65s); Liam Cassley 2-2; Ryan McGarry 0-4; Damian Gillan 0-3; Niall McGarry 0-2; Gary Miskella 0-2; Padhriagh McGill 0-1; Tony Connolly 0-1.
St Agnes scorers
Conor Pelan 0-3; Kevin Grieve 0-2;
ALL SAINTS
Daire Hasson, Darren McGinty, Christopher McAfee, Francis Casey, Ryan McGarry, Colum Neeson, Brendan McDonnell, Ciaran McGarry, Liam Cassley, Damian Gillan, Ciaran Neeson, Eoin McGuigan, Niall McGarry, Gary Miskella, Padhraig McGill.
Subs – Anthony Mitchell, Tony Connolly,
ST AGNES
Christopher Fay, Neill Gillespie, Martin Robb, Daniel McConnell, Brian Keatings, Dairmuid Kelly, Matt Carlin, Conor Pelan, Cormac Flannery, Ronan Carroll, Mark Caldwell, Sean McIlhatton, David Quinn, Kevin Grieve, Declan McLarnon.
Subs –Declan Crummey, Pascal Clarke, Shane McCafferty, James Halleron.
Referee – Ciaran McCloskey (Loughgiel)
Report via Saffron gael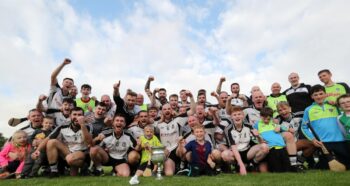 ---
Share This Story