Saffron Business Forum News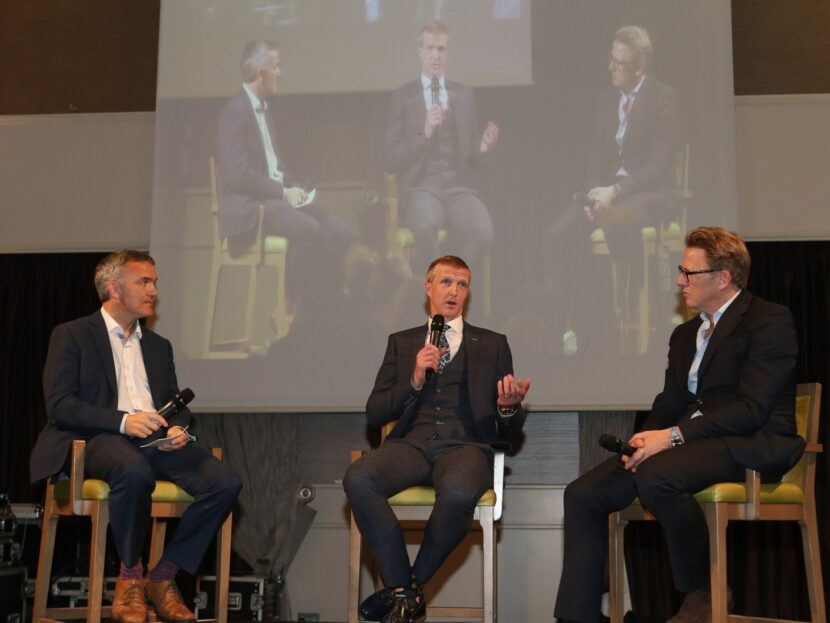 A lunch fit for a king
21st September 2018
On Friday 14th September the Saffron Business Forum hosted their annual fundraising luncheon event in the Crowne Plaza, Belfast. Following a very successful and memorable event in 2017 which raised an admirable amount of money for Gaelic Games in Antrim and featured special guest AP Mc Coy, the 2018 event had a lot to live up to.
The special guest at this year's event was going to be key to the allure for potential attendees and MCE Events delivered and then some with the announcement that Henry 'The King' Shefflin would be attending and speaking at the 2018 fundraising event.

The hurling-mad county of Antrim was a perfect fit for Henry who was mobbed by adoring fans before he could set foot inside the venue. After signing countless Kilkenny jerseys, hurling sticks and books, Henry sat at the top table with Antrim GAA Chairman Colin Donnelly amongst others and enjoyed live music from The Tuesday Club and The Rapparees who really raised the roof!

The MCE Events team meticulously planned every detail of the event and worked tirelessly to ensure not only that it was a sell-out, with over 500 people in attendance on the day, but that it improved upon the high standard set in 2017.

Prior to the event MCE Events team engaged with Saffron Business Forum to identify exactly what they wished to achieve from this year's event and how they envisioned it unfolding. Following the initial planning meetings, MCE Events got to work and made sure everything was taken care of from the booking the guest speaker to printing the branded envelopes which were placed on the tables for the raffle.

There was a variety of live music, dancing from Loughgiel School of Irish Dancing, a raffle and best of all the charity auction with some outstanding prizes including tickets to see Ireland take on the All Blacks this autumn and corporate tickets for the Open at Royal Portrush next year.

Before lunch began, in a rather poignant presentation, former Antrim GAA great Anto Finnegan who has been stricken with Motor Neuron Disease was presented with a special gift as well as a £1000 cheque for his charity DeterMND.

Following lunch, Henry joined Paul McErlean, Managing Director of MCE Public Relations, and the hilarious Shane Elliott, former Dunloy player and BBC Hurling pundit on stage for an honest, frank and incredibly insightful interview in which he covered everything from his obsession to succeed, interpersonal relationships with other sporting greats, injuries, family and his life since retiring from inter-county hurling.

Attendees rose to give Henry a well-deserved standing ovation before he was presented with a framed jersey along with a custom-made hurl emblazoned with action shots from his playing days with Kilkenny.

The entire event was captured on camera and played live on screens so that no matter where you were in the room you wouldn't miss a beat and received excellent coverage in regional press both in print and online.
---
Share This Story