Latest News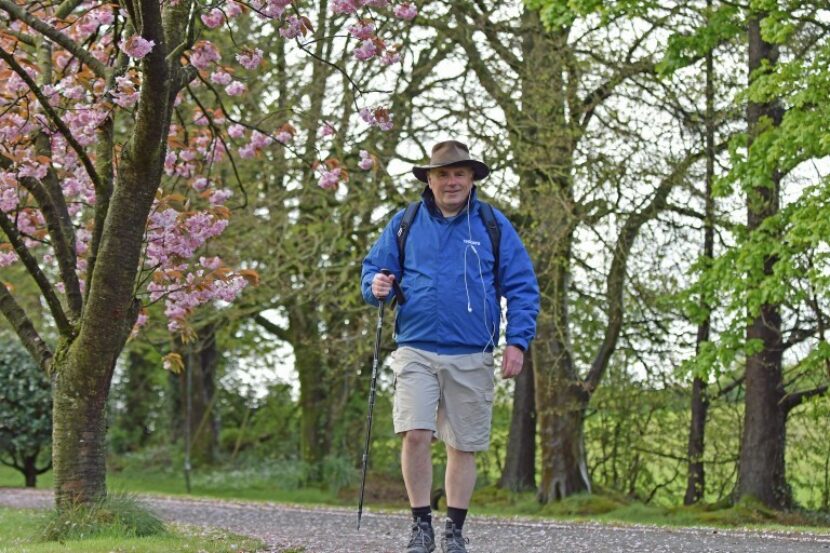 Walking the Virtual Camino with Dr Martin
30th April 2020
Walking the Virtual Camino with Dr Martin
Walking a Camino route is one of the most wonderful experiences you could ever imagine! People choose to do it for different reasons whether it be to take time out of a busy lifestyle to enjoy a period of solace or maybe a personal issue in their lives requires them to want space away from everyone to think or pray in peace. Many like it as an adventure, a walking holiday to enjoy the great outdoors and the traditional food of the wide and varied regions of Europe.
Historically pilgrims walked hundreds of miles, on 'The Way of St James' across Europe, to Santiago de Compstella the resting place of St. James. Today thousands of pilgrims start anywhere along the 700-800 mile routes from France, Portugal or Spain with over eight different routes to choose from and hundreds of starting points in-between. Some walk an entire route in one go, taking 5-6 weeks while others walk 100-150 miles between 7-10 days annually, to complete a leg of the journey. For some a 100 mile walk usually from Sarria to Santiago deCompestella is a one off journey. However, no matter how you do it, unforgettable memories will be created. The weather, the people you meet, the places you visit and the socializing round the table for the pilgrims' dinner in the evening, all evoke the most wonderful memories on a daily basis.
The one certainty for many from any Camino trip, is the desire to return and do another part of the journey. There is a real sense of goodness about the experience that makes you want more. One would think, it must be easy if so many people return, but the difficulties experienced, pale into insignificance when looking forward to the next stage. I often compare it to giving birth or any such overwhelming life experience, you remember the pain but the outcome is so magnificent, it fades away into the background!
For Martin McMullan walking a Camino is in his blood. He walked the first Camino back in 2016 in lashing rain, thunder and lightning, hail stones and a little sunshine, so no Irish weather will impact his journey. Last year he walked the first two stages of The French Way from St Jean Pied dePort across The Pyrenees to Logrono, over 130miles, so he has picked up his virtual journey in this beautiful city, the capital of the famous La Rioja region.
Martin is driven with love and compassion for people. He loves talking to people and his magnetic personality attracts people to him. So it was no surprise that in his goodness, he put the poorest of the poor in the forefront of his Camino walk. His idea of raising £500 for Trocaire has been surpassed within less than 24 hours, on his Just Giving page and it stands at £16,168 as he begins day 1. What a wonderful send-off he got last night when stars of the GAA from all over Ireland sent him messages of Beun Camino on a specially compiled video.
Day 1 arrives after much real preparation and a Trocaire fund of £13, 750 safely working on his behalf!
So Martin spent his virtual night in Logrono having a wee glass of Rioja and some tapas and was up and raring to go at 7am for his 28km trek.
It was important to take the right route out of the city as there were no Camino shells to point the way to pilgrims but a big sign on the main Saintfield Road coming into Lisburn asked people to beep their horns to keep him company. Twin sons Josh and Ben and their brother Jude accompanied him on the first leg of the journey 12.5 km into the town of Navarette.
Out he went through The Old Pilgrims Gate Puerta Del Camino or The Old Out Shed at McMullans!!. He was sad leaving the La Rioja region where it all began, but he would return to the beautiful vine yards by tonight. His sons accompanied him, walking the required 2m social distance in front, while their mum Therese went off to her job in the Camino Café to prepare breakfast for the travellers.
Getting out of Logrono was no joke, as there were lots of busy roads to cross and looking for the Camino shells was nerve wrecking. Did no one tell him there weren't any!! He is now onto country roads and enjoying the rain on his face, although the red soil of Rioja is clinging to his boots!
3km out and Dave O'Hare from Trocaire arrived with walking gear…tee shirts if it gets warm, here's hoping and a big raincoat for our usual weather! At 6.5 km Bert Trowlen from Saffron Gael arrived taking photos for his online newssheet.
Martin has a great relationship with technology but unfortunately today it was letting him down. According to Josh and Jude's app, they were clocking more meters than Martin's Strava App! Needs to get this corrected as he doesn't need the extra kilometres!
Cliodhna Craig cycled along the main road singing 'You'll never walk alone", while he took phone calls from friends encouraging him to keep going .Three hours 10 minutes later he arrived in the village of Navaretta ready for his first coffee and big bowl of porridge glad that in all that time there was only 45minutes of rain! He has set a fair pace walking 3 km+ per hour especially in the rain. He will need his energy replenished for the steep climb later in the day to Alto Grajera! Navaretta is a beautiful place with the Church of Santa Maria del Asuncion open for pilgrims to say a wee prayer.
A half an hour break and UTV want a zoom video interview for tonight's news, but that can't stand in his way to get going. Off he goes on the 15.5 km, crossing farmland, walking through vineyards, passing the odd church and castle and on to the hamlet of Ventosa with one bar and an albergue. Martin needs a wee stop here as it is the only stop on this leg of the journey and a steep climb lies ahead into Alto de San Anton. Luckily the sun has shone for this stretch, so he throws off the sunhat and lies down on the grass for a well-earned rest and a piece of fruit! But there are still places to go before evening. Alto de San Anton is another beautiful place with the ruins of the Monastery of San Anton a big attraction, but it is off the beaten track so he won't go there!
The final stage of today's journey is the decent for the last 10km into Najera. Coming down steep inclines on Camino, can often be worse than going up, as the rough terrine gives way under your feet and you feel your toes pushing into the front of your boots. Blisters can form and toes nails can become sore but Martin is well versed in foot management and as the gradient is more gradual he manages it without any problems.
Najera is now in sight and after a long day that began at 7am Martin is looking forward to getting his feet into a basin of warm water with plenty of salt while the cook in Camino Cafe will have the pilgrim's dinner ready for the weary traveller and of course a glass of Rioja! Day 1 complete and a new day to look forward to tomorrow.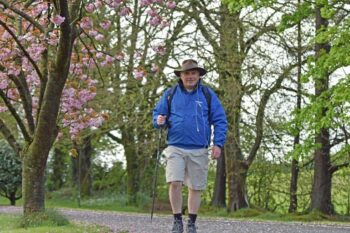 ---
Share This Story