Latest News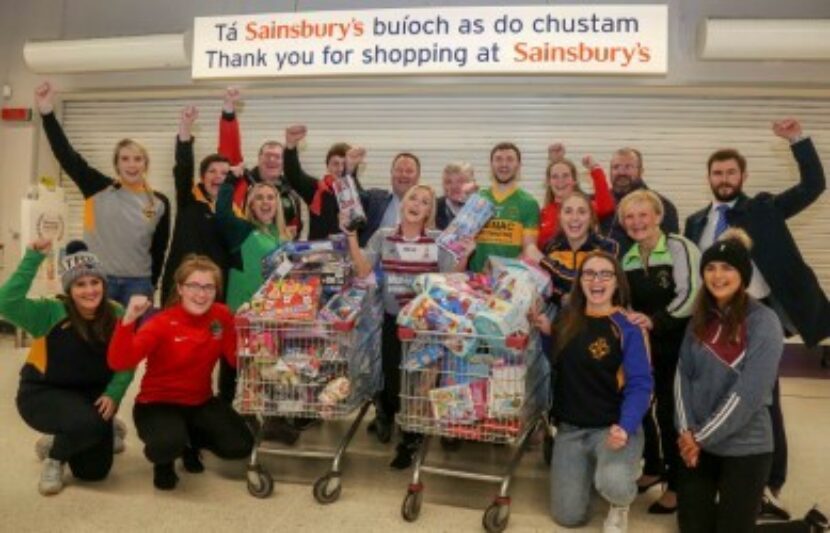 Saffron Aid Trolley Dash
22nd November 2017
Saffron Aid Trolley Dash
County Antrim Gaels put their catching and possession skills to the test when they took part in a three way trolley dash for their charity initiative #SaffronAid2 at Sainsbury's Supermarket in Belfast's Kennedy Centre.
Several  trolleys and 'drivers' were involved in the dash, which was organised by Sinead Steele from St Enda's GLC & Sean Kelly Antrim PRO and which was sponsored by The Kennedy Centre and John Jones, Naomh Séamus CLG and Quarter Accountants.   St Vincent de Paul (SVP), which works with families in need across every community of Northern Ireland, will distribute the games, toys, clothes and toiletries collected to the most vulnerable in our society, helping to make sure that as many families as possible wake up to something special on 25 December.  
Sean Kelly, PRO for Antrim GAA, explained:  "The trolley dash is a new addition to our #Saffronaid2 fund-raising activity this year and we are so grateful to The Kennedy Centre, Naomh Séamus CLG and Quarter Accountants whose sponsorship has made it all possible.  Sainsbury's Supermarket has also been extremely generous in letting our three gaels loose on their shelves!"
"Clubs across the county are also involved in our wider Saffronaid2 Christmas appeal which is  encouraging their members to donate a shoebox containing a few items for families in need or alternatively a gift for a child, and having their premises available as collection points for SVP. 
"It's very simple to make a shoebox donation. The next time you're out and about, pick up a few extra items, place them in a shoebox, wrap the box and mark on it whether it is suitable for a man or woman.  Suitable items for the shoebox could be things such as shower gel, toothbrushes, toothpaste, lip balm, gloves, hats, small towels, chocolate, hand cream, to name just a few. Or you can provide a new, unwrapped gift for child up to 16 years old – we are also keen to take more gifts for teenage boys this year.  SVP will then collect all donations from your local GAA club."
Brendan O'Neill, Regional President of SVP, added: "Christmas is a very special time of year but unfortunately it can also be one of the most stressful for those individuals and families that are struggling to make ends meet each and every day.    All those who support Antrim GAA and its #Saffronaid2 campaign can be confident that they will be helping to make someone's Christmas a little bit brighter and I would like to say a really big thank you to everyone who has given their support."
Many Thanks to the following Legendary Trolley Dashers & Friends:
Dan McConnell - St Agnes
Noeleen Cosgrove - Oisins Glenariff / Ruairi Og
Niamh Donnelly - Ballycastle
Claire Kearney - Ruairi Og
Nuala McQuillan - Ruairi Og 
Claire McGoldrick - St Teresas
Lara McGoldrick - St Teresas
Mairead Gault - St Teresas
Alison Mhic An La - Sarsfields
Roisin Mhic An La - Sarsfields
Domhnall Nugent - Lamh Dhearg
Conor McCann - Kickhams Creggan
Amy McCarthy - Naomh Seamus
Nicole Jones - Naomh Seamus 
Sinead "Organiser" Steele - Naomh Eanna
Paul McCarthy - Naomh Seamus Chairman 
---
Share This Story