Latest News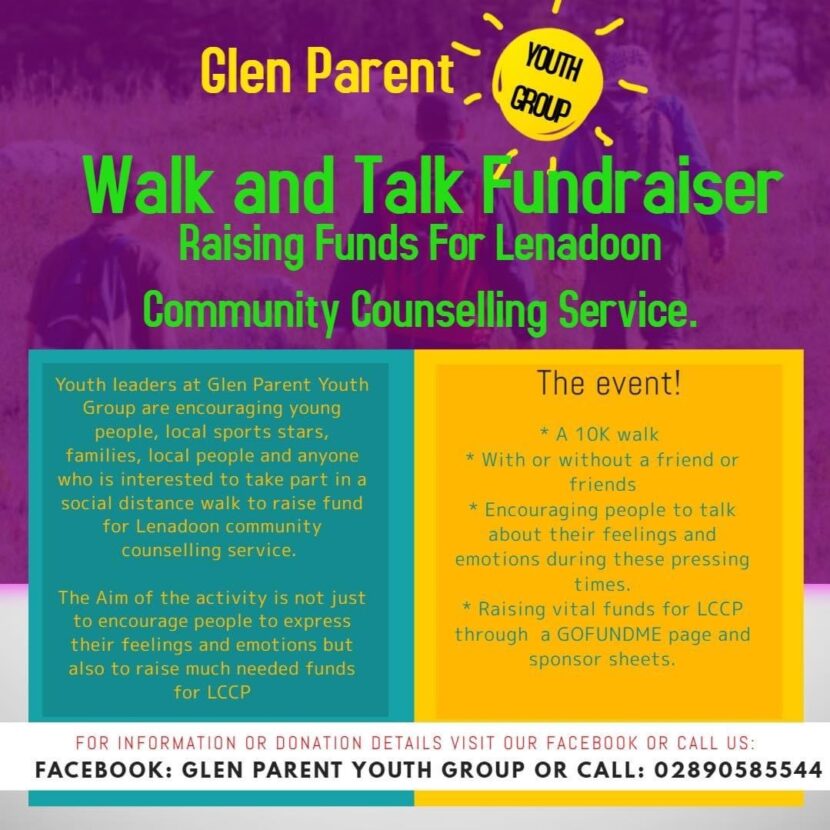 Glen Parent Youth Group
10th June 2020
Glen Parent Youth Group is organising a positive Mental Health fundraiser for Lenadoon Community Counselling Service. They are encouraging young people, children, adults and families to do a 5km or 10km challenge that involves walking, running, cycling with at least one other person and to talk to each other whilst they do this to see how each of them are feeling.
The 5km or 10km activity can be done at home or outdoors and those taking part are being asked to adhere to social distancing guidelines and it can be done over a period of days rather than one the one occasion.
All those taking part are being asked to donate or get at least £5 sponsorship all of which will go towards covering the costs of counselling sessions provided by Lenadoon Counselling Services for individuals with mental health, depression, anxiety or suicidal feelings.
In the last six months we lost two of our Youth Members to suicide and the young people who attend our Youth Projects wanted to do something positive to remember them and also to encourage people of all ages and abilities to talk about how they are feeling especially in light of the Covid Lockdown.
For further information contact:
Michael Doherty
Glen Parent Youth Group 41c Suffolk Road
02890 585544
Amazing initiative well done Glenparent Youth and Community Group GlenParent Youth GROUP 💪🏼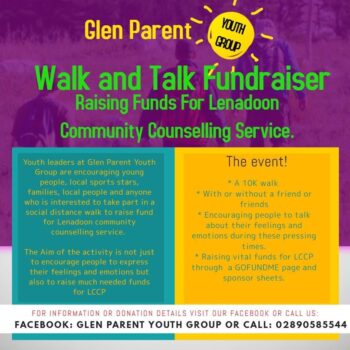 ---
Share This Story