Latest News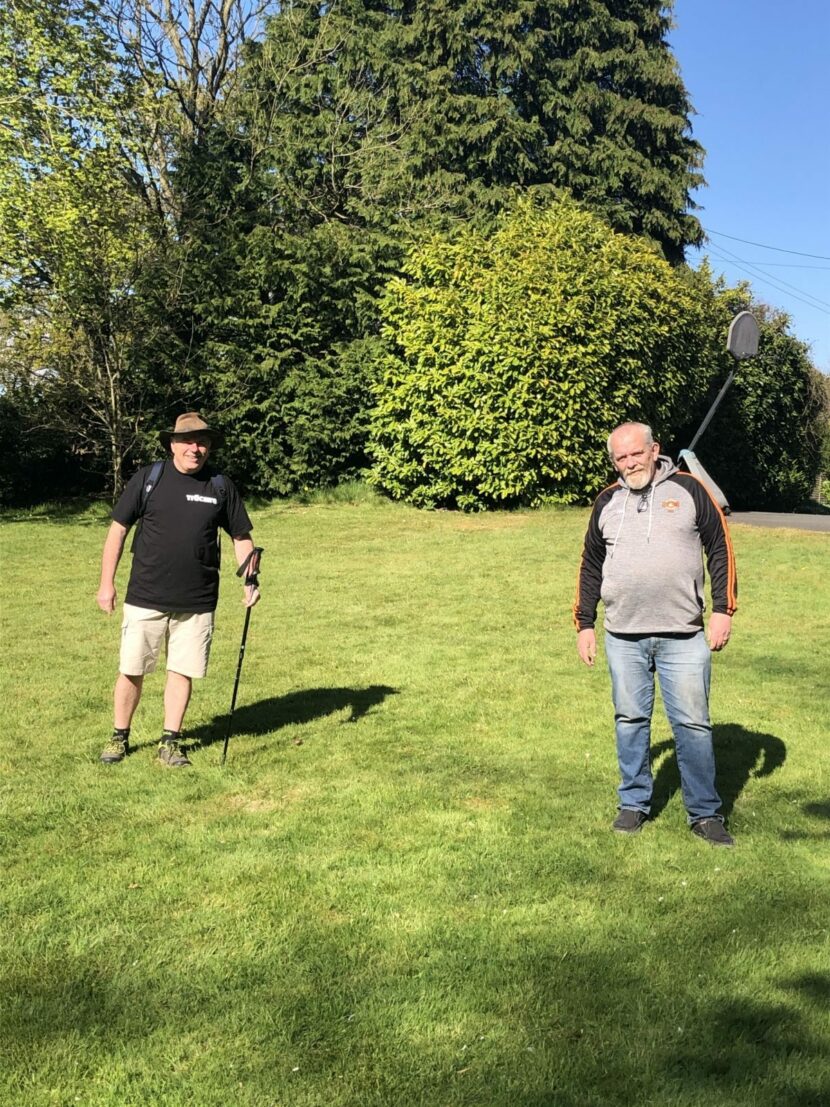 Day 5 Doc Martin Reaches Burgos
4th May 2020
Day 5 Doc Martin Reaches Burgos
The final day and Happy Birthday Martin messages sweep across the country to Lisburn. A long day lies ahead as 27km with weary legs, will sap the energy right from the first step. But what a journey it has been 121km(75.18miles) in 5 days and the amazing places Martin has visited in his driveway!
Today leaving the little hamlet of San Jaun with the Church of San Nicolas de Bar, Martin heads back to the woods and the wide dust track he left yesterday. That last 6km really took it out of his legs. Doc McFerran had warned him about the pain in his left anterior calf, from walking clockwise for so long and he was right! I'm certainly not going backways now he thinks! Bernie Dougan the spiritual director on the walk, had given a UK blessing yesterday evening, so with the wind beneath his wings he is confident that the miles will drop away today!
First landmark then is the village of Ages, where the path joins the main street, but he decides to push on to Atapuercaat 6km before breakfast. A good number of the St. Patrick's Walking Club and the Rambling Retirees are out in force this morning, to walk the final leg in solidarity with him, so that should keep the spirits up.
9.30am and right on target, Atapuerca sits in all its splendourbefore him. The fossilised historic Atapuerca man was found here, by archaeologists in 20th century, but it would mean going 3km off the track to see him, so that's out! He probably wouldn't do a transfer to St. Pat's senior team anyhow!! There is a nice bakery, so a wee café con leche and a croissant will kill the slight hunger pangs. "Sure throw in a piece of Spanish Omelette when you are at it, as it's my last day," he tells Therese in the Camino Café.
Camino pilgrims are the life blood of little villages like this, with people stopping for coffee, to buy water or to have something to eat. Fellow pilgrims enjoy each other's company at such stops, always exchanging stories, picking up advice but usually laughing together as they don't understand each other's language. Friendships grow through meeting the same pilgrims day after day on the journey and maybe walking a short distance together. Company kills the miles and takes the mind of painful feet or legs.
Coming out of Atapuera, a line of fencing offers a guideline,which leads onto heathland and a descending pathway. Ah, the first sighting of Burgos away in the distance below. So near yet so far!
The warm sunshine is so heartening and the breeze makes walking bearable. Psychology plays such an important role in conquering long numbers of miles, so setting short term targets to get from one place to the next is advisable and stopping after every 2 hours. Food and beverages are also hugely important, as they create the incentive to reach goalsalong the way.
To meet his next target, Villafria for lunch, he has 11km to execute via Villaval, Cardenuela and Orbaneja. Coming off, 4 km later and it's another hamlet Villaval. Hamlets are deceiving when following a map, as one can be led to believe they have reached a village, only to find no amenities available. Having a good set of walking notes or a guide book ensures that the pilgrim is well informed before they set outand Martin always has his homework done no matter how tired he is the previous night.
Bimpe Archer from the Irish News calls to see how Martin is getting on, on his last day as she has been intrigued by his story and will conclude it in tomorrow's Irish News. Martin thinks about how amazing the media have been, in keeping his story alive every day either on radio, tv, newpapers, and on the web. This has without doubt helped the donations coming in.
Down, down he goes on earthen pathways, passing an old quarry, and eventually coming to a minor road with Cardenuela- Riopico a small village nestled in the hillside. But Martin is keeping going to make it to Orbaneja-Riopico a further 2km. He is determined to make it to Villafria before stopping for lunch as this is more than halfway and will make the afternoon slightly shorter. The 2 villages are very similar with little life in either, this fine morning. The bird song is beautiful as the empty skies create a clear environment for them to move around in and the trees provide good clean air to draw into the lungs. Martin stops to admire the fauna growing wild in the hedges, creating blankets of colour in an otherwise barren setting.
Phone goes again…….Frank Mitchell U105……well done Gemma Carey, he thinks, as she was determined to get him on Frank's show!! Martin relates his story and motivation for doing the virtual Camino with his witty throw away lines, making Frank laugh but those who heard it, spoke of such a humble and selfless man! Job done but no time for hanging around as this won't get him nearer to lunch!
3 km later he arrives in Villafria, a suburb of Burgos and surprisingly big. Immediately Martin is drawn to squawking above him. A church with a tiered tower provides the vantage point for lots of storks, sitting up like a choir squawking,"Come on Martin the end is in sight." Spoilt for choice and so ready for a Spanish lunch, he chooses a café, throws off the rucksack, the hat and the boots and lies back on a most convenient bench and waits for lunch to be served. Spanish hams and a bottle of San Miguel arrive on cue and a huge birthday cake from Trocaire, indicate the celebrations have begun early!
On his way again and as he passes a bus stop he notices buses go to Burgos every hour…..wouldn't that be gas if I jumped on the bus! Definitly not…..I've come this far, the last 10km won't break me.
The final 10k into Burgos is now within reach but the exhaustion after 5 days walking, day on day, is taking hold and the legs are weary. In through the town, cross a few roads, cross a bridge and another slip road, cross the dry river of Rio Pico and through a lorry park to reach the N120 and the sign for Burgos." Phew and that only brings me to the outskirts of the town", he gasps.
The Camino scalloped shell is the pilgrim's visual guide to help them from place to place. Its bright yellow arrows on a royal blue background can be painted on trees, walls, footpaths and special concrete posts and is hard to miss. Although in more obscure places like the mountainous track Martin had come down, maps and walking notes are essential. To walk half an hour in the wrong direction and to then have to retrace your steps, is a cruel blow to the confidence!
The traffic whizzes past and Martin knows he has to get to the far side of the road, then find a laneway and eventually onto a gravel track called The Calle de Villafranca! Now there's a railway tunnel to go under, up steps and down the other side to pick up Calle de Villafranca again. He stops! He turns round and heads back to the river bed…..no more official path he thinks. The river path will be pleasant and away from the crazy road and I know exactly where I'm going! On goes the SatNav and the final kilometres are being clocked, to Burgos.
Tired but overwhelmed with joy, Martin walks into the square in Burgos at 17.13pm. It might not be the same as walking into the square at the famous Cathedral in Santiago de Compostella, where the remains of St. James lie, but the feeling of completing a Camino, is exactly the same. He bends down, kisses the ground and says," Thank you God for bringing me safely to my journey's end."
Epilogue
Funny how a story evolves. Five days ago Dr Martin McMullan began an amazing journey through central Spain without leaving his driveway on the Saintfield Road in Lisburn. His aim was to complete 121km or 75 miles of a Camino walk to raise much needed funds for Trocaire. Today, his birthday, he completes the final 27km of that journey, a very tired man but totally elated by what he has achieved.
Martin's initial target was to raise £500 but his final total as he walks up his driveway for the last time stands at £30,263. The amount of gift aid pledged, and cash to be lodged will without doubt bring this total nearer £40,000.
An unbelievable amount raised by one person, which will bring basics to the poorest of the poor through the work of Trocaire. Their Lenten campaign has been challenging because of the lockdown, but Martin, in total self-isolation himself, has made this possible. It is a real tribute to him that he has reached so many people from all over Ireland and many parts of the world. So many people who have never heard of or met him before, but are touched by his story and the cause, that they are donating money and getting their families and friends to do so too.
It is touching to read the comments and good wishes left by donors, many of whom were patients of Martin and have commented on his care and support in their medical situations. For his family and huge circle of friends who have surrounded him with love and donations by the bucket load, Martin would want to thank every single person personally, because that is how Martin works.
Martin has been encouraged and thrilled by the video messages he has received on a daily basis, from the sporting stars around Ireland, who all weighed in behind him, with donations as well as messages. His nightly relaxation was important and listening to the messages helped immensely.
His two walking clubs, St. Patrick's and St. John's Rambling Retirees kept him motivated with daily messages, video messages and walking legs of the journey with him, as part of their daily exercise in their own area.
Martin's immediate family have embraced this amazing effort and supported him every step of the way. Social distancing has been extremely difficult but they know only too well the importance of keeping Martin safe. Wife Therese in the Camino Café, the twins Ben and Josh, Megan and Jude who all walked part of the journey every day with him and Jack who was there in spirit, as he works in the Covid19 ward and can't come to the family home. What an amazing family!
To the media who picked up his story Martin is extremely grateful. Such wonderful publicity brought his efforts beyond his family, GAA club and friends and showed what was possible when isolated!
What will Martin do now? Rest in his shed at the back of the house for his tremendous work is done and he must be totally exhausted. He will not only take one day at a time but one hour at a time from today on. His birthday will be the strangest ever in total isolation, but he can rest assured that his efforts will bring basics to hundreds of thousands of people on the other side of the world as Trocaire will ensure.
Will he walk another Camino……..not for a very long time he says, but the road to Burgos will be on the top of his agenda when he does!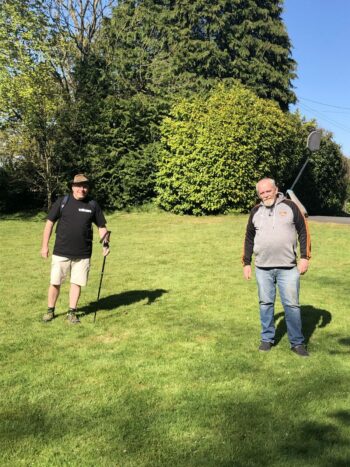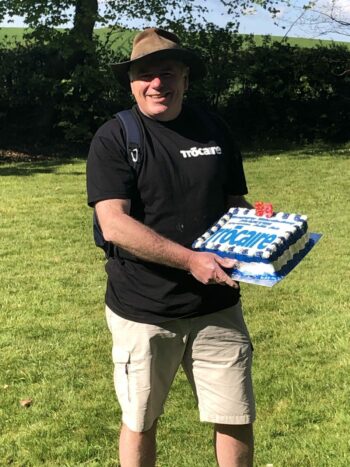 ---
Share This Story