Latest News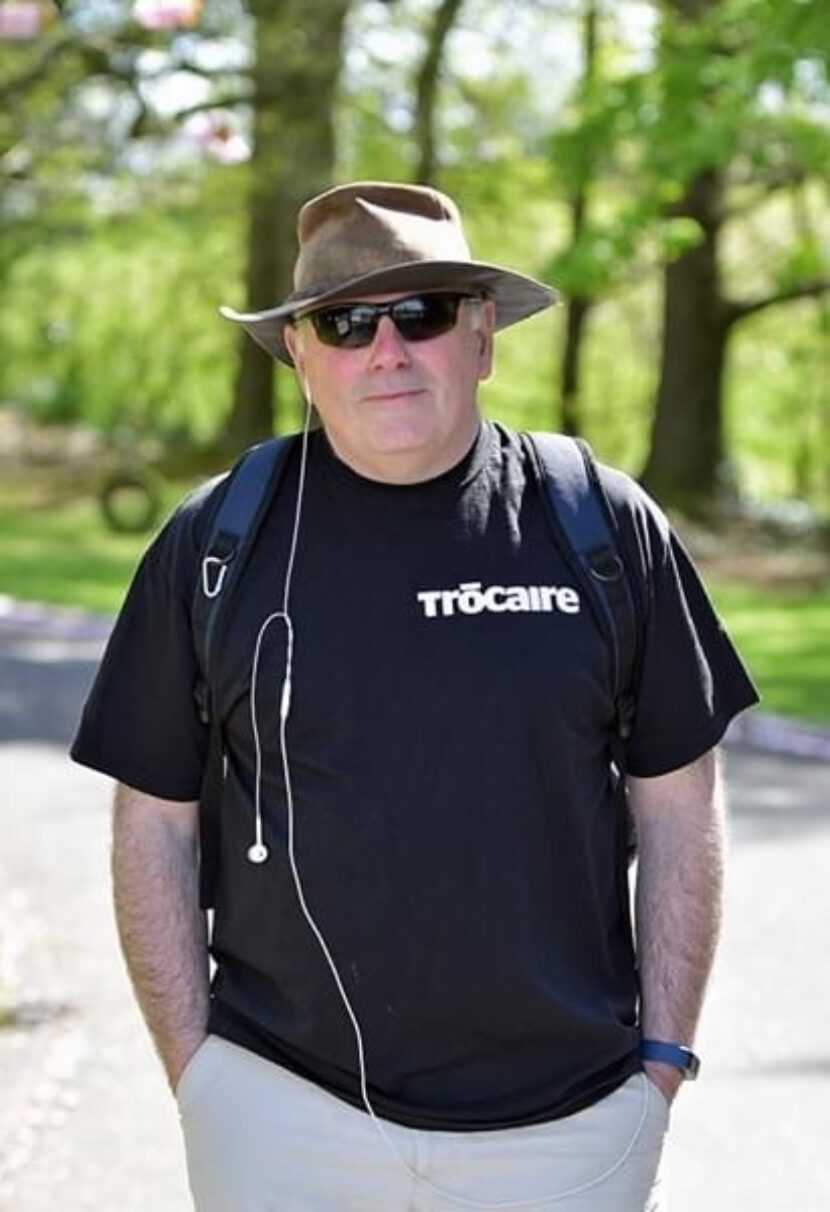 Day 3 with Doc Martin on the Road to Burgos!
2nd May 2020
Day 3 with Doc Martin on the Road to Burgos!
Santo Domingo de la Calzada to Belorado
Oh what a beautiful morning! Today he rises as an even brighter star, after his appearance on UTV last night. "What a clear concise message about the work of Trocaire", RamblingRetiree Helen tweeted. The interview was brilliant. Bones are aching, but he is fuelled with an inner strength, as he has well surpassed the £20,000 mark, picking up over £1,000 in donations after his UTV appearance. Wow!! Smiling he wonders what his PR Gemma Carey has instore for him today! A few learned Joe Wicks moves, should loosen the legs and he is out the door at 8am again.
Running through his head, is another Paddyism," Yesterday is history, tomorrow a mystery, but todays a gift as it is the present", so time to shake, rattle and roll down this hill and out of Santo Domingo de la Calzada for the 23km that stretches ahead. "An hour and a half should get me to Granon", he thinks. What a lovely town Domingo de la Calzada is, with the Cistercian monastery and San Salvador Cathedral, where the remains of St. Dominic rest……..wonder has Carol McCann ever visited here?
"That looks like the lovely lady from the Camino Café Therese, out for her morning walk. Wonder if she is heading on the 6.5km to Granon too; she looks like good company; I think I will drop in bedside her!"
Tarmac and gravel under foot, penetrate the boots and the ankles and knees feel the pressure! Oh good, it says turn left onto a tree lined track. Tracks generally mean softer ground but it is short lived as it changes to gravel a half a kilometre later. The phone goes. Hello, hello! Oh it's Kevin Gough, lost again! Did he not learn from the Ferrol Camino, you never go out without your map!!! Got him back on track and he looks up. A sign for Granon says, "Turn Right 1.9 km and below Turn Left 3.3 km!!" Now this is a conundrum!! Simple explanation in his handbook sorts it. Turning right means walking along a main road while turning left walking twice the distance in a triangle. The woman Therese has disappeared (probably away to get the coffee on) so Martin takes his chances on the main road and Granon draws closer.
Paul & Patricia Glover take time out from the Nightingale Hospital saving Covid19 patients, to give a bit of medical advice. "Get the compression socks on Martin, your muscles will thank you tonight". Great advice, pulls off the ruck sack and empties it on the grass. Joe McGuinness was right pack everything including a variety of hats and socks! Muscles tightened and back on the feet.
A walled town with a steep set of steps, brings him up into the square in Granon, but the hips creek with every leg lift! 9.45am. Mm mm good timing and definitely coffee time and a wee selection of tapas. "Gosh yer man over there with the big bag of croissants is the spit of Eugene McMullan", he thinks. A wink and a few words and Eugene drops the bag in front of Martin and is away!
10.15am and back on the road 3.5km to Recedilla del Camino and a dust track and the fields stretch before him. The sun has come out again. How good to have the heat on your back but remember Martin only mad dogs and English men go out in the midday sun, although you don't have a choice. Ah but how opportune, there's a woman giving out Drayne's ice-cream and she has a big bag of home baking too. What a woman Dina Adair!
Recedilla is a nice wee village with a big church with a unique baptismal font, but as there are no signs of grandchildren just yet, Martin doesn't need to check it out! Phone rings and Spanish music drifts all around. It's John Toal Radio Ulster,who is intrigued by Martin's Camino and wants to hear all about it. He enjoyed Martin's quick witted comments about keeping his feet dry and the truly amazing amount he has raised! Just at that Mr Parker a kind neighbour drops off a donation.
Pity we don't have a fiddle to play a lament, as Martin has reached a critical point in his journey. He is at the border! He is leaving La Rioja region and crossing over into the province of Burgos. However Burgos means a turning point and the road to the finish begins here!
7.5 km to go to lunchtime and that means reaching Villamayordel Rio but there are a few wee villages to execute before then. 2km to Castildelgado and another 2.5 to Viloria de la Rioja will break it up but in no time the signs for Villamayorare saying 3km. Now that Martin has the Spanish cuisine cracked, he is looking forward to Morcilla de Burgos salad,speciality of the region, a bit like black pudding and freshly baked beer bread by Dina. Last evening he dined on Tortilla Patatas and Chicken and Prawn Paella from Gartland'srestaurant, served by the beautiful Hannah. Not a drop of cabbage soup in sight so far!
The Rambling Retirees are great for confidence boosting, with twenty times ten messages, to keep Martin motivated throughout the day, with many others matching his steps, on the highways and byways near home. Kieran Drayne whizzes past on his bicycle shouting encouragement into the wind.
Villamayor is not a large town on a river as Martin anticipated, but more like a wee village by a stream but with Belorado only 5.5 km away, Martin's spirits are soaring. Conquering the 5.5km and another day will be complete. This will be a record if he can make it before 3pm. Gosh, those compression socks have certainly done the trick today!
That looks like Bert Trowlan back taking a few photos for the Antrim GAA website. "Mmm glad I pulled off the old blue jacket to reveal my lovely Trocaire tee-shirt today," thinks Martin. "Boy doesn't Bert do a great job and Sean Kelly, keeping me to the fore in Antrim GAA….even though I'm a Tyrone man through and through!!"
A lovely little girl called Megan with the same surname as Martin, has stopped by to walk the final leg with him, now that has made his day. It will be hop skip and jump to Belorado! Another guy appears at the gate who remembered interviewing Martin for a survey at one time and he leaves a donation too, glad to see Martin in full flight.
Full flight he is, as he reaches the small town of Beloradobang on 3pm and the day is still young. Definitly a pilgrim's dinner and the local vino here this evening. Day 4 tomorrow. "Do you know what…..I'm enjoying this", he smiles and the total now stands at a staggering £24,801.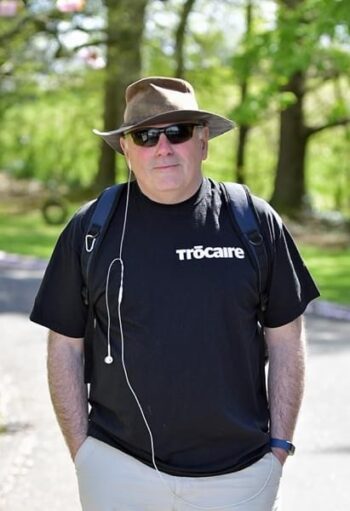 ---
Share This Story