Latest News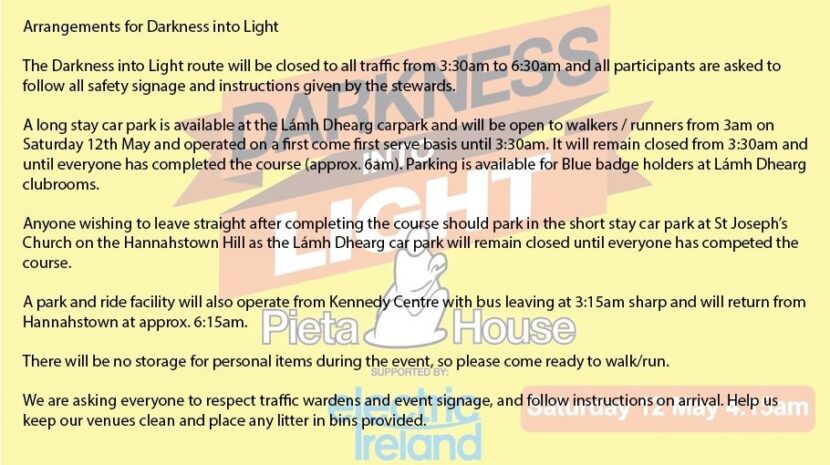 Arrangements for Darkness into Light -Lámh Dhearg
10th May 2018
Arrangements for Darkness into Light -Lámh Dhearg 
 
The Darkness into Light route will be closed to all traffic from 3:30am to 6:30am and all participants are asked to follow all safety signage and instructions given by the stewards.
 
A long stay car park is available at the Lámh Dhearg carpark and will be open to walkers / runners from 3am on Saturday 12th  May and operated on a first come first serve basis until 3:30am. It will remain closed from 3:30am and until everyone has completed the course (approx. 6am). Parking is available for Blue badge holders at Lámh Dhearg clubrooms.
 
Anyone wishing to leave straight after completing the course should park in the short stay car park at St Joseph's Church on the Hannahstown Hill as the Lámh Dhearg car park will remain closed until everyone has competed the course.
 
A park and ride facility will also operate from Kennedy Centre with bus leaving at 3:15am sharp and will return from Hannahstown at approx. 6:15am.
 
There will be no storage for personal items during the event, so please come ready to walk/run.
 
We are asking everyone to respect traffic wardens and event signage, and follow instructions on arrival. Help us keep our venues clean and place any litter in bins provided.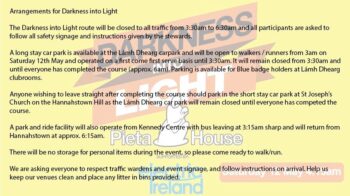 ---
Share This Story