Latest News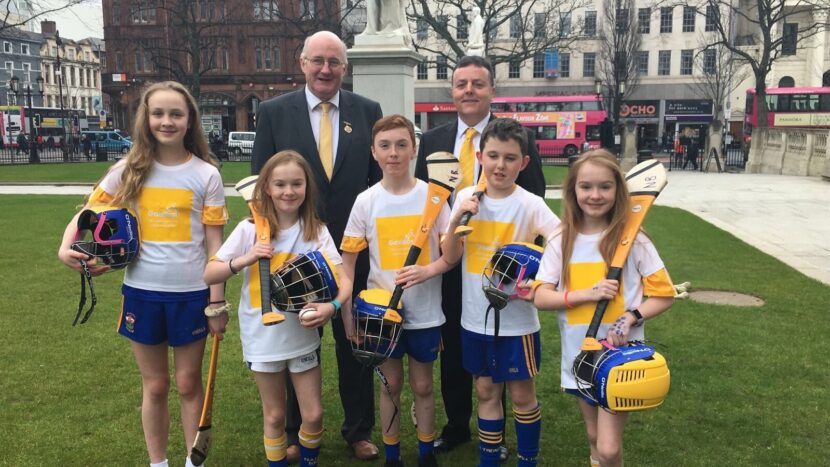 Antrim County Board wish to appoint a Regeneration Manager
13th April 2018
Position GAA Belfast Regeneration Manager 
Role Summary: Antrim County Board wish to appoint a Regeneration Manager on behalf of the Gaelic Athletic Association (GAA). The post holder is responsible for the delivery of the Gaelfast Plan which is focused on raising and further developing the profile of the Gaelic Athletic Association (GAA) among the target groups of young people, their parents and their community in order to increase participation in playing or involvement in Gaelic Games in the city.  
Gaelfast is targeted with growing membership levels through a structured programme of partnership working with the education and community sectors within the city. This covers all games of the Association and related bodies, including Gaelic football, hurling/camogie, handball and rounders.  
It will focus on enhancing existing relationships and forging new relationships between schools and the GAA, initially focusing on primary schools and later secondary schools, including the delivery of a high quality sporting programme of games, while supporting clubs to improve their coaching standards and player skills. 
Reporting: The post holder will report to Antrim County Regeneration Management Board.  
Employer: GAA- Antrim County Board (recruiting on behalf of the GAA) 
Initial Base Location: Antrim GAA, Unit 2, 1d Hannahstown Hill, Belfast, BT17 0XS 
Type of Contract: Permanent 
Salary Range: Circa £60k per annum 
Hours : 40 hours per week or such additional hours as may be required in order to satisfactorily fulfil the duties of the post. 
Flexibility: The post holder would need to be flexible to work evenings or weekends in addition to daily activities, as per the requirements and responsibilities of the role. 
Main Duties and Responsibilities: 
Strategic Direction and Implementation 
·       To plan, prioritise, monitor and evaluate the delivery and progression of the Gaelfast Plan which is focused on regenerating Gaelic Games throughout the city. 
·       To communicate the vision, ethos and mission of the GAA and particularly Antrim County to a wide variety of stakeholders to ensure the delivery of a quality and effective Gaelic games plan initially within primary schools, and later with secondary schools, which is aimed at complementing the development and participation within Belfast Clubs. 
·       To act in a senior representational role with sectorial stakeholders by building effective and sustainable relationships with groups/organisations such as key statutory bodies, local government and, in particular, urban regeneration agencies in the city. 
·       To work internally with key GAA stakeholders to facilitate in-depth consultation at strategic level and contribute to the development and review of policies and procedures. 
·       To initiate, capitalise and maximise on potential opportunities and linkages to deliver to the Plan's objectives e.g. availing of potential external funding and generating income through a variety of means.  
·       To promote the development of Gaelic Games and raise the profile of the GAA to the respective school and education authorities to ensure increased engagement and active participation in Gaelic Games in two stages: 
o   Phase 1 – Primary school children  
o   Phase 2 – Post Primary school 
·       To lead and be accountable for the successful delivery of the Plan within a five year period and to regularly report on its operational and strategic progress to the Antrim County Regeneration Management Board. 
Leadership & People Management 
·       To provide an effective leadership role which includes recruiting and developing a highly motivated, skilled development team including an urban development manager, development officers and a dedicated administrator who will introduce the ethos of the GAA initially to primary schools and latterly to secondary schools. The aim is to increase sporting participation in primary schools through a 'hub' model of dedicated Gaelic Games delivery at locations throughout the city. 
·       To directly manage dedicated staff who will manage and promote the Plan, through effective resource utilisation and administrative structures. 
·       To manage, recruit, train and appraise key staff and ensure key performance objectives and measures for the team and staff members are fully understood. 
·       To participate in all matters concerning discipline, grievance, incidents and complaints. 
·       To ensure the provision of such support to schools within the city as is necessary to enable them to access Gaelic Games and improve their standards of coaching. 
Project Delivery & Evaluation 
·       To develop effective communication and engagement networks/partnerships with internal and external stakeholders in pursuit of collective objectives such as improved coaching programmes, increasing numbers of schools, teachers and parents actively involved, raising the profile of the GAA and ultimately increasing the number and skills of young people playing Gaelic Games in Belfast. 
·       To be responsible for the collation and evaluation of data and opinions arising from the delivery of the Plan in order to assess their impact and to present to internal management,  in facilitate proper evaluation of the Plan by the Antrim County Regeneration Management Board. 
·       To direct and organise the administrative, technical and professional work involved to ensure the delivery to the Plan's objectives, managed through a structured project management approach. 
·       To regularly use and keep up to date with computer software packages and develop reports, spreadsheets etc. to ensure reporting processes and procedures are as efficient and innovative as possible.  
·       To effectively analyse and interpret this data and to present it in a coherent and structured format to make informed decisions and forecasts about the Plan to the Antrim County Regeneration Management Board. 
·       To measure and monitor progress and to decide on corrective action in the achievement of the objectives. 
·       To ensure that robust governance and measurement standards, including safeguarding, are in place and to uphold the maintenance of all necessary records. 
Note: 
This is not intended to be a comprehensive list of all the duties involved in the post and may be unilaterally amended at the direction of the employer; consequently the employee may be required to perform other duties appropriate to the post as assigned to them at any stage. 
Personnel Specification 
Title of Post GAA Belfast Regeneration Manager 
Note to Applicants 
1.     You must clearly demonstrate on your application form how you meet the required criteria as failure to do so may result in you not being shortlisted.  
2.     You should clearly demonstrate this for both the essential and desirable criteria. 
3.     Shortlisting will be carried out on the basis of the essential criteria as set out below, using the information provided by you on your application form.  
4.     Please note that Antrim County Board reserves the right to use any or all of the desirable criteria, outlined below in section 2, at shortlisting. Therefore, you must clearly demonstrate on your application form how you also meet the desirable criteria. 
5.     Proof of qualifications and other relevant documentation is required if an offer of employment is made – if you are unable to provide this, the offer may be withdrawn. 
Section 1: Essential Criteria 
Some of the essential criteria below will initially be measured at Shortlisting stage although may be further explored during the interview stage. 
1.     Minimum qualification of Primary Honours degree  

Shortlisting Stage 

2.     Experience at senior management level within the fields of: Business and / Or Sports Development   

Note - *Senior management is defined as a minimum of 3 years' experience with direct management responsibility for an operational budget of at least £500k and a strong knowledge of all aspects of financial management such as managing fixed budgets and resources. 

Shortlisting Stage 

3.      Minimum of 3 years' experience liaising in a senior representational role with a wide variety of external stakeholders including local and/or central government and/or statutory agencies and/or national/international sporting organisations. 

Shortlisting Stage 

4.     People management experience which must include having previously directly managed a team of at least 10 staff or more for at least 3 years or more.  

Shortlisting Stage 

5.     Good knowledge and experience in the full use of Microsoft Office software including strong knowledge on Word, Excel and PowerPoint. 

Shortlisting Stage 

6.     Hold a current full driving licence which is valid for use in the UK & Ireland and have access to a car on appointment. This criterion will be waived in the case of applicants whose disability prohibits driving but who have access to a form of transport approved by the Association which will permit them to carry out the duties of the post. 

Shortlisting Stage 
Section 2: Desirable Criteria 
Desirable criteria will only be used where it is necessary to introduce additional job related criteria to ensure recruitment files are manageable. You should therefore make it clear on your application form how you meet the desirable criteria. Failure to do so may result in you not being shortlisted. 
1.     Ability to demonstrate knowledge of the Association and its challenges and opportunities or ability to demonstrate how a knowledge of the association and its challenges and opportunities will be obtained. 
2.     Previous Experience of Sport Development and/or Sports Regeneration within Gaelic Games or another sport. 
3.     At least 3 years proven experience of successful partnership working with community groups or clubs to achieve successful outcomes.  
Vetting 
As part of the Recruitment and Selection process, it will be necessary for Antrim County Board to carry out an enhanced check through Access NI before any appointment to this post can be confirmed. 
Canvassing either directly or indirectly will be an absolute disqualification for appointment. 
The GAA is an Equal Opportunities Employer.
---
Share This Story