Guestbook
Guestbook
Please remember the CLG Aontroim Guestbook is moderated, and all posts will only be visible after approval from a member of County Executive.
PLEASE NOTE THE GUESTBOOK IS NOT INTENDED FOR NOTICES OF FIXTURES OR RESULTS AND NONE WILL BE POSTED.
---
Annoyed Hurler
14th March 2017
Really disappointed to hear a 17 team hurling league of Div 3 & 4 teams. Complete nonsense. We now have seasoned Div 2 (last year) and IHC clubs playing against JHC teams in a league, including teams only recently formed. Some teams are going to get hammered. What purpose will that serve anyone? How will that develop players especially those who aspire to play county level, other than make them feel good? The Jim Nelson (a St Pauls stalwart) review of 3 years ago sought to create competitive leagues and did so successfully. You therefore had to fight for every point to gain promotion or survive in the league. In Div 3 the intensity of the hurling had to be maintained. They were working well. The St Pauls proposal bins that report. I understand that most Div 1 teams abstained from the vote. That is sad. In the county we should be seen as a hurling family all looking after each other for the betterment of hurling. Abstaining indicates total apathy for what goes on outside of the elite clubs. PS. Someone will come up with the brainwave to change the leagues next year to avoid teams getting scalped….
Breaking news.
12th March 2017
Fair play for the intriguing tweet in relation to the breaking news. It got me. Keep up the great work. I hope the golf classic goes well for the hurlers.
---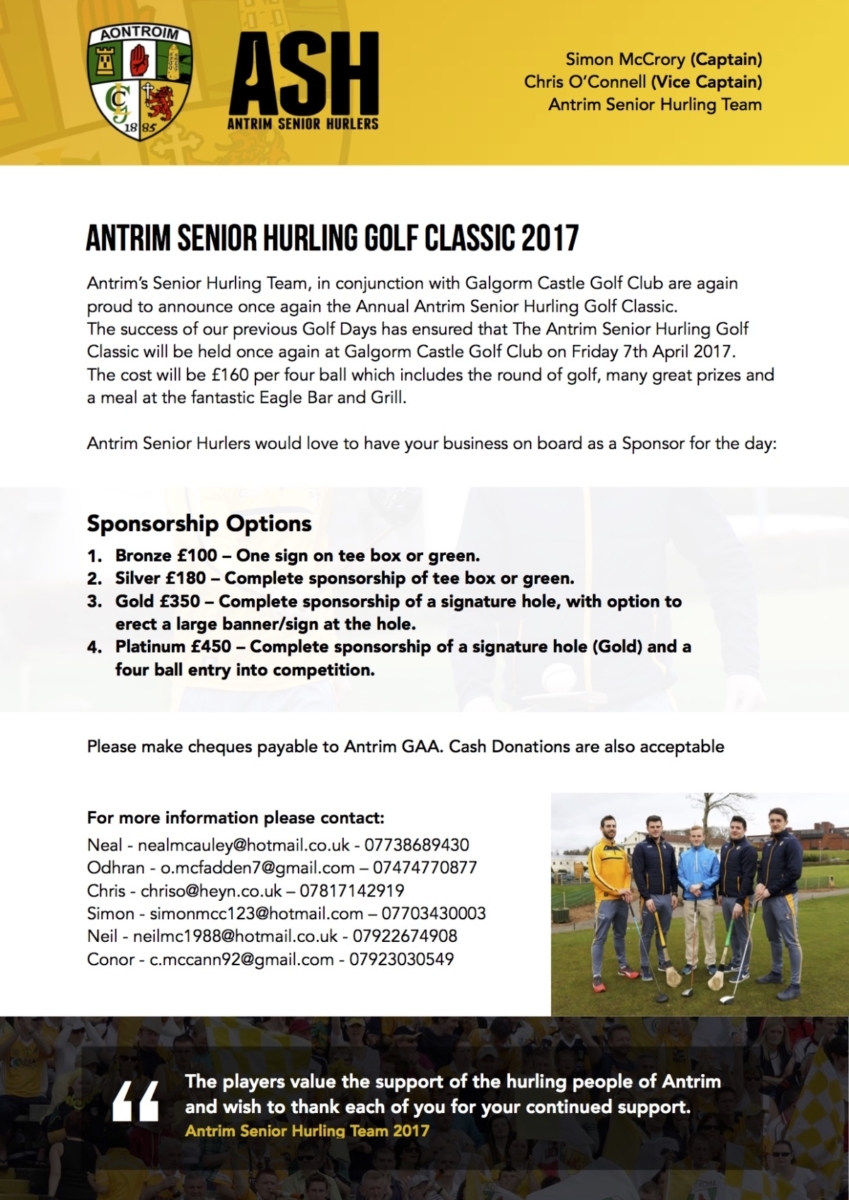 It did get a lot of interest.
More importantly- get yourself a four ball booked or sponsor the team on the day.
#ItWillBeAGreatDay
ODR
11th March 2017
Find it hard to see how our county hurling manager can say that hurling is dying in West Belfast, when St.Marys are now into an All-Ireland Final having beaten every North Antrim opposition comfortably, also rossa and Stjohns have won numerous minor titles in previous years and more recently Stjohns winning an U21 title. This is extremely insulting to proud hurling men in west Belfast, there may be a lot of kids but there is a lot of other hobbies to taken up in Belfast. Think coaches in Belfast deserve credit, ok it hasn't became evident at senior yet but it'll come! Tus maith leat na-obire
---
Sambo's interview was open & honest. Your homing in on a negative. Antrim hurling is currently not were we all would like it to be. It is also there for a reason. 
The tide is turning - our Senior hurlers are working extremely hard and have heart and will be successful. 
Well done to St Mary's this weekend. 
I wouldn't see it as an insult at all. 
You know what your club and other clubs have achieved in Belfast and there have been successes as you have indicated. 
The stats pointed out by Sambo in relation to children hurling in Belfast is a reality. 
Keep the good work up ODR. 
#OneCounty

#TogetherEveryoneAchievesMore
antrim overseas
7th March 2017
will the u21 game be shown on periscope?
---
No. Ulster GAA don't permit live periscoping of the U21 championship
SW Gael
6th March 2017
Any dates for after the split yet?
---
Div 1 player
28th February 2017
any dates for after split? trying to arrange holidays and need to know!!!
---
They will be out in the next day or two.
ODR
23rd February 2017
WELLdone to Naomh Eoin last week hosting London, professional set up and great facilities for the county games. Where are all our great saffron supporters get out and support ours lads.
jimdonnelly
23rd February 2017
In response to 'small voice from lower leagues', and having checked the published fixtures, it looks to me as if the Div 3 clubs will begin the season one week ahead of most Div1 and Div2 clubs who will be fielding a reserve team; not that big a difference...
Small voice from lower leagues
22nd February 2017
Can someone please tell me the benefits of starting the Div 3 football league so early ? Does the county board not realise that there is no way club pitches will be in any condition to host games this time of year . It means that teams would have to give up home advantage and find a council pitch that's available as I would imagine their opponents pitch would also be unavailable. Why the gulf between 1/2 and 3 , does Div 3 football not count ? Smacks of elitism you ask me.
Micheal
20th February 2017
Excellent job concerning the All county league fixtures. Looks to be a well planned/organised schedule. Any idea when dates for the club championships will be released?
---
The club championship club dates will be out in the next day or so.
Sylvia Kilcline
17th February 2017
Congratulations to all involved in the hosting and staging of this year's Scór na nÓg All-Ireland Final last Saturday! It was clear to see the effort that had been put in and the result? A wonderful show! Maith Sibh!
WLTM
16th February 2017
Hi now Valentine's Day is out of the way , do you know when fixtures for 2017 will be published ? Cheers
---
I got no cards 😭 For valentines!
I'm sure the CCCC will furnish soon.
Aontroim abú
15th February 2017
Well done to everyone who helped out and competed at the Scór na nÓg All Ireland final at the weekend! What a fantastic showcase of the country's talent. Maith sibh!
---
Great feedback! Thank you.
Scor buzz
14th February 2017
Well done everyone from Antrim, led by Bronagh Lennon, who worked their socks off behind the scenes to make the All Ireland Scor na n'Og Final in the Waterfront a huge success. Hard work is breathing new life into Scor in Antrim.
---
Yes well done to Bronagh & all involved!
A massive success for Antrim to host.
#Scór
culture vulture
14th February 2017
What a great event for Antrim on Saturday in The Waterfront. The Scor na nOg all Ireland was fantastic. Just goes to show how alive out culture is in this country. More antrim clubs need to get involved in this!
---
It was a fantastic event indeed.