Guestbook
Guestbook
Please remember the CLG Aontroim Guestbook is moderated, and all posts will only be visible after approval from a member of County Executive.
PLEASE NOTE THE GUESTBOOK IS NOT INTENDED FOR NOTICES OF FIXTURES OR RESULTS AND NONE WILL BE POSTED.
---
Parent
19th January 2017
I see there is a juvenile game in Belfast this Saturday as part of the Fr Alex Reid Festival. Brilliant to see that there is a Primary 7 team taking part - brilliant because pupils know who is in P7 class. The Under age categories don't make sense to them and it is detrimental to not be with your own class because of how birthdays fall. So well done North Antrim Primary 7s! This is good at primary school level.
---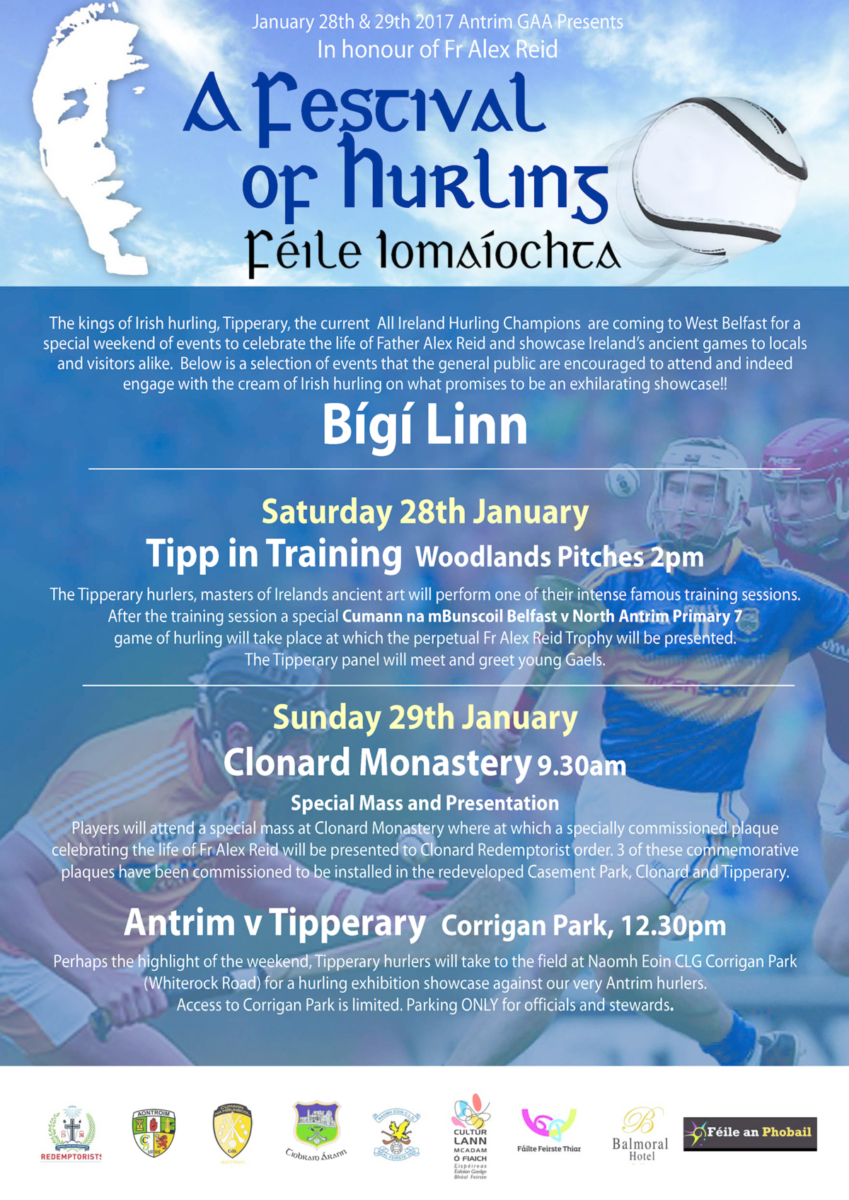 The weekend will be fantastic. It is a great opportunity for clubs to bring their young teams in full club colours to meet the All Ireland Champions and of course our own HURLERS who should be household names!
Chris
16th January 2017
Just wondering would it be possible for Martin Fogarty to do a coaching session in the Belfast area.
---
There are no plans for Martin Fogarty to do a coaching session in Belfast. But watch this space as All Ireland Winners Tipperary will be in Belfast on 27th & 28th . Details to follow over the next few days.
Senior
11th January 2017
When is the fixtures coming out for senior and all championship matches
---
No dates are out yet. Hopefully the same time as last year. 
Niall
10th January 2017
When did we start the development squad system within the County in relation to hurling?
---
Give Ciara Ferry a call at the office to discuss.
Naomh Éanna CLG
7th January 2017
Naomh Éanna CLG Glengormley require manger for Senior Ladies Football team All those wishing to be considered should forward their name and contact details to Naomh Éanna secretary Email: Secretary.stendas.antrim@gaa.ie Tel: 07759136148
Kieran
5th January 2017
Admin when we getting our usual onslaught of fixture questions, I need my holiday booked and championship draw crap be good to keep it free from all that clutter
---
The fixtures will probably be out the same time as last years fixtures.
Burren Supporter #1
2nd January 2017
My team Burren won the Ulster Minor yesterday at St Pauls. I Just want to personally thank St Pauls for the friendship that they have shown not only to my own club but to every club involved in the Ulster Minor. The level of commitment from the volunteer is phenominal to stage this year in year out. It was Great to hear Anto Finnegan speaking at the presentation also. Many thanks St Pauls and well done on a fantastic Ulster Minor 2016. Up the Burren!!
---
Thank you  for the kind comments on a fantastic competition run by St Pauls GAC every year.
Scór interest
15th December 2016
Hi, I had never heard of scor until this year and after attending the county final of scor na nOg this year I couldn't believe what I had been missing. Could you send me details of when the Ulster final is as I would like to go and watch. Thank you
---
Ulster final is 14th January in Galbally Co Tyrone and All Ireland is 11th Feb in waterfront, Belfast. 
Wondering
15th December 2016
Has there been a date set for the Antrim presentation of medals to our teams of 2016?
---
Not sure what teams you mean ? Have your club email the county secretary if there is a query.
Seamus
13th December 2016
Has the administrator any idea of when the yearly club fixture planner for next year will be published? Thanks.
---
Not yet. They will probably be out as per timescale from the last few years. 
Optimist
13th December 2016
I would like to congratulate all the volunteers who contribute to Antrim GAA, it is a tough gig. I work with GAA people from different counties and they all have major challenges. Dunsilly is a ray of hope for our future. Casement park is the major one and I'm confident our county can deliver. I know there are people working very hard behind the scenes and I wish them well, let's give them all credit, they and those who went before. Seasons greetings.
---
Thank you.
I don't see it as tough personally but more of an opportunity 👍.
JP
8th December 2016
With amalgamation and sanctions you are narrowing the pool of players who can participate. The loyalty to club and place is being eroded. When they leave their parent club it impacts negatively and the temporary lift to the other club is just that - temporary. Is it too much to consider needs of all young players?
Culture vulture
7th December 2016
I would like to congratulate Bronagh Lennon on a great year for Scór in Antrim . Scór seems to be back on the radar in Antrim and its great to see. We need to celebrate this aspect of our GAA and support Scór in every club in Antrim. Good luck for the year ahead Bronagh and I hope the all Ireland in Belfast is a great success!!
---
Yes its definitely on the Radar! The clubs are really enjoying Scór and lets hope a few make it to the All Ireland.
Aghagallon supporter
6th December 2016
Not being awkward but just wondered why my 2 posts weren't published in reply to some points made by others. Thanks
---
No point having tit for tat discussions. Cargin did a great job in hosting the final and have a fantastic ground and stewards.
Not being awkward either it was a low scoring game and Aghagallon won i don't see why we should continue with the matter.
Enjoy your celebrations. It's been a great year for your club and infact both clubs.
Wondering
6th December 2016
Is there a report being published of last nights convention - how many votes was St Johns motion defeated by?
---
The convention was reported on via Twitter . The motion was well defeated.