Latest News
1 Minute with Antrim Senior Hurler Ciaran Johnston
14th March 2017
1 Minute with Antrim Senior Hurler................
Name: Ciaran Johnston 
Club: Naomh Eoin 
Favourite Position: Centre half Back 
Favourite Pitch: Thurles 
Hobbies: Anything sport related, music especially Garth Brooks, politics and a good aul slabbering session over coffee 
Childhood hero: Seanie McMahon or Brian Whelehan, incredible players 
Best Player you have played with: Slasher Flynn, corner forwards rejoiced when he retired 
Best Player you have played against: Tony Kelly 
Best game you have been involved in: U21 All Ireland Semi win v Wexford 
Best game you have ever seen: Kilkenny v Tipp 2014 
Best trainer within the Current antrim squad: Jackie Webb, does more running than anyone and fires out great quotes during the sessions 
Worst trainer within the Current Antrim squad: 2 men get the nod, pretty boys. Conor 'the bull' Johnston and Conor 'Chocolate' McKinley. Both can't train unless they've had a half hour rub from the physios. 
Worst training drill: any drill you don't need your hurl for, can only mean one thing 
Best motivator within the Antrim squad: Ryan Elliott, really has a way with words, Suppose that's why he's always so successful in the Bot on a Wednesday when he's chasing 
Pre Match meal: fruit, yoghurt, coffee 
Any superstitions: Dont believe in them! 
Favourite Song: Red Hot Chilli peppers- Can't Stop/Arctic  Monkeys- Mardy Bum 
Favourite Film: Snatch, all time great! 
Favourite Holiday Destination: Vilamoura, Portugal 
Favourite Drink: Gatorade (available for sponsorship) 
Favourite Meal: A medium rare steak with all the trimmings, couldn't beat it 
Best advice ever received: Be the best you can be 
Biggest influence on career: My father 
Club Volunteer of note: Jim Gough, club wouldn't run without him! Super umpire also, no such thing as a wide 
Song you listen to before big games: Dakota- Stereophonics 
Most important skill: First touch 
Biggest Strength in your game: Striking 
Area of your game you would like to improve: Trying not to get caught giving forwards special attention 
Which club do you like to see do well apart from your own: Ulster Hurling Club New York, great people and a great club 
Which county do you like to see do well apart from your own: Dublin, a lot of good friends in the capital and many a good night had out there, from what I can remember! 
Advice for youngsters: watch as many games as possible, you'll always be a student of the game and won't ever be done learning.
Young Player within your club to look out for: Have to give my younger sister Eimear the nod, up and coming camog and footballer! 
Best thing about the GAA: Playing with your family and the friends you make along the way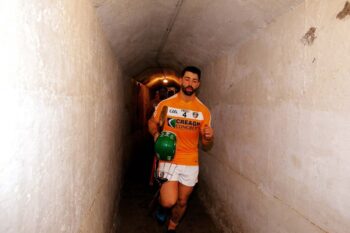 ---
Share This Story