Latest News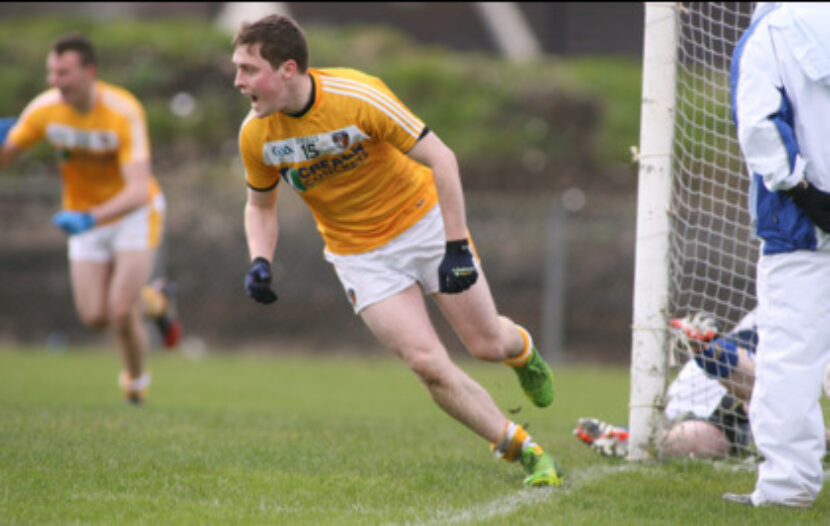 1 Minute with Antrim Senior Footballer CJ McGourty
15th March 2017
1 Minute with Antrim Senior Footballer:
Name: CJ MCGOURTY
Club: NAOMH GALL
Favourite Position: CENTRE FORWARD
Favourite Pitch: DE LA SALLE PARK
Hobbies: GOLF, SOCCER, BASKETBALL, Days away AND PLANNING PRANKS ON PAT HUGHES
Childhood hero:GOOCH/STAR/TOMAS O SE
Best player you played with: Sean Kelly
Best player you played against : David Lenaghan (cusacks and down) never looks at the ball
Best game you been involved in : All Ireland club final or Sydney Final 2016
Best game you ever seen: Kerry vs Dublin all Ireland quarter final.. Kerry tanked them
Best trainer within current antrim squad: Sean Pat Donnelly gym Monday through Friday.
Worst trainer within current Antrim squad: Chris Kerr no running drills allowed for him.
Worst training drill: up the clock down the clock
Best motivator within antrim squad: Mark Sweeney but he does talk some rubbish at meetings
Pre match meal: Pasta and chicken
Any superstitions: For club championship games always be early to have tea with sean Kelly snr (club kitman) also try and sit beside same people in dressing room.
Favourite Song: Anything by Oasis
Favourite Film: Dumb and Dumber
Favourite holiday : Boston or Sydney
Favourite drink: Guinness
Favourite meal: spuds chicken peas onion rings gravy
Best advice ever received: Always peak in September(Stephen Tormey) ps although he never peaked in his career
Biggest influence on career: Parents/ Lenny Harbinson/Tony early/ St Galls Underage coaches
Song you listen to before games: Summer of 69 or Manaic 2000
Club volunteer of note: Easy question Sean Kelly Snr. Anything you need the man does it.
Most important skill: Shooting
Area of game you like to improve: It all to be honest
Which county you like to see do well : Again easy one Kerry
Which club you like to see do well: Not one.
Advice for youngsters: Career goes fast enjoy it, work hard and believe in yourself.
Young player within your club: Mick Hopkins good dual player but also good with the girls so im told.
Best thing about the GAA: The Passion for their club..
---
Share This Story