Saffron Business Forum News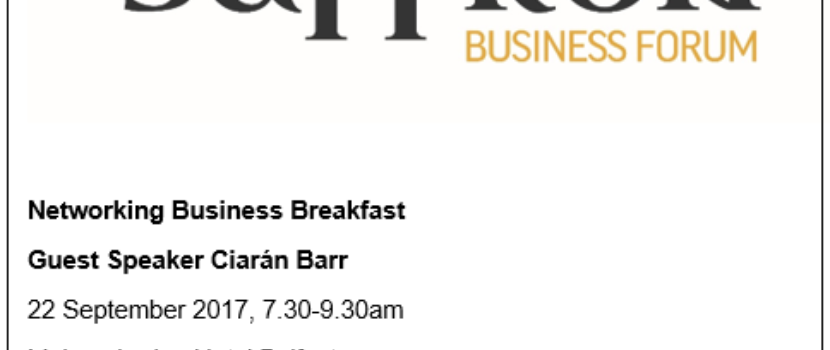 Upcoming Networking Business Breakfast!
29th August 2017
We are delighted that our next Networking Business Breakfast is only a few weeks away! Join us at 7.30am on 22nd September 2017 in the Malone Lodge Hotel Belfast where our guest speaker will be Ciarán Barr, former Antrim GAA captain! Also, in the spirit of growing the forum, please feel free to extend this invite to a friend to attend with you!

To RSVP please email nicole@mcepublicrelations.com
Ciarán attended Queen's University Belfast and graduated with a B.Sc. in Mathematics and Applied Physics in 1989. He then trained in Dublin as an accountant, graduating in 1993.
He joined Bank of Ireland in 1993 and worked in Factoring, Corporate Banking, Foreign Exchange and Marketing in Dublin and London.
In 1999 Ciarán joined GE Capital and has worked with them in London, Paris, Seoul and Dublin. His most recent role was Capital Planning Leader for GE Capital International the $175B non-US asset consolidated group company based in London.
He played water polo for Cathal Brugha and Ireland and represented the British Universities at the World Student Games in 1987 in Zagreb, Yugoslavia.
Ciarán played hurling and football for O'Donovan Rossa, and played in the All-Ireland club hurling final in 1989, unfortunately losing to Buffers Alley of Wexford.
He played for Antrim in both football (Ulster minor champions in 1983) and hurling, and was the losing captain in the 1989 All-Ireland Final.
Ciarán is still an active member of St. Vincents GAA club in Dublin having joined them in 1990, coaching both hurling and football at adult and youth levels. 
We very much look forward to seeing you, and your guest, then.
---
Share This Story