Latest News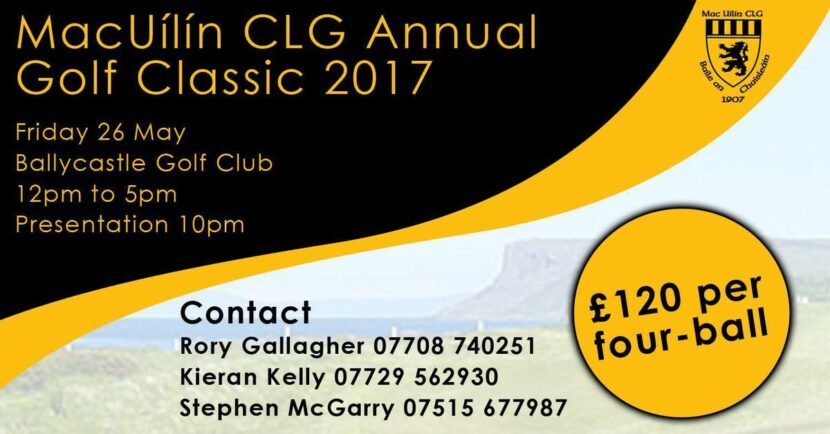 MacUílín CLG Baile an Chaisleáin Annual Golf Classic 2017
11th April 2017
The MacUílín CLG Baile an Chaisleáin Annual Golf Classic 2017 will take place on Friday 26 May at Ballycastle Golf Club.
Entry
The entry fee is £120 per four-ball.
Sponsorship
There are sponsorship options available. Please see the poster below for the terms
If you wish to take part and/or sponsor the event please contact any of the following:
Rory Gallagher 07708 740251
Kieran Kelly 07729 562930
Stephen McGarry 07515 677987
More Information
To stay up to date with the latest news regarding the MacUílín CLG Annual Golf Classic 2017 visit our website www.mcquillangac.com or the club Facebook page www.facebook.com/mcquillangac. 
A Facebook event has also been created for the day and can be found here. This will also be used to notify attendees of latest developments.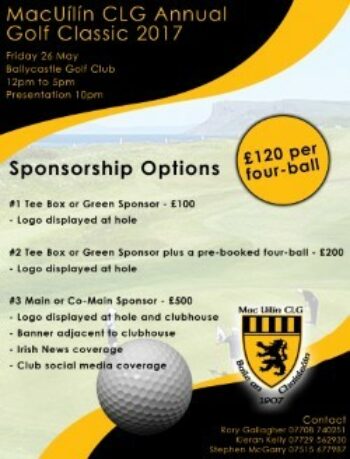 ---
Share This Story